Blog
September 16, 2020
How ATX is Revolutionizing Professional Services and Support
A conversation with ATX's Vice President of Global Services
By Joe McGarvey, Director, Marketing |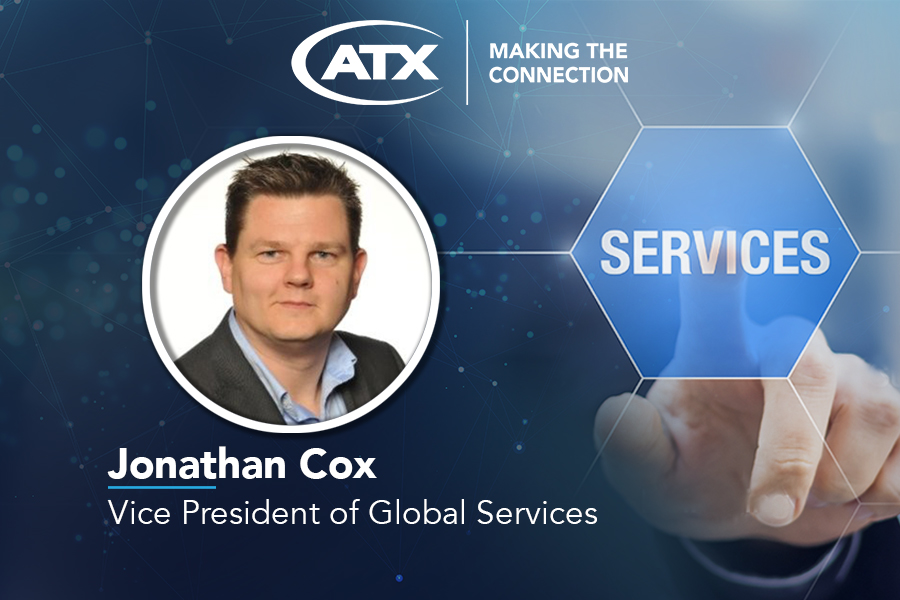 A favorite quote of Jonathan Cox, ATX's Vice President of Global Services, which he attributes to a onetime colleague, is "If the world were to end, it would be Services turning out the lights." For Cox, who joined ATX in 2018 to revitalize the cable equipment provider's professional services and support operations, that quip best sums up his last-line-of-accountability worldview of the role and responsibilities of a professional services organization.
Despite the fondness for apocalyptic analogies, Cox has spent the past couple of years breathing new life and fresh vigor into ATX's service and support operations by embracing the model of the modern support organization as an agile entity that adapts itself to the evolving needs of customers and their increasing expectation of a Services organization. Services, Cox likes to say, is in his DNA. His entire career, which spans more than 30 years, stretches across the telecommunications and cable industries. He's led the Professional Services organizations of service providers and equipment suppliers, on both sides of the Atlantic. Few can match the breadth and diversity of Cox's resume, or the accumulation of experience that goes into his understanding of what's required to deliver a world-class service.
"At ATX we are constantly looking to evolve our Services organization, to meet the demands of the modern-day customer's requirements," says Cox. "It is our belief that the days of a technical support organization focused on simply answering a call and attempting to resolve an issue on a very specific product have been superseded by a commitment to partnership and the understanding that a customer's desired solution and goals exist beyond the initial ask for help."
ATX Services Team, with more than 200 years of collective experience, brings considerable depth and knowledge to the communications service provider space.
Cox positions the technical support ATX offers, which is branded ATX Care, as a multi-faceted, tiered offering that can be tailored to each customer's needs. He recognizes that it's a natural tendency for most businesses to overlook the value of having quality support in place until it's needed. Expanding the concept of Services as delivering value beyond the equipment protected, says Cox, is critical in helping businesses understand that protecting the services that run on that equipment from disruption is the real value of a competent and proactive Services organization.
Cox is constantly evolving the Services side of ATX, with reachability as a starting point. "We're working hard every day to develop new ways for our customers to easily interact with ATX," explains Cox. "We strive to be your technical lifeline, ensuring we protect our customers' investments by going way beyond the initial call."
Working "with," rather than "for" his customers has become a mantra. "It's a partnership," says Cox. "We are part of the customers' team, consultants in their organization and always looking to go beyond the challenge put in front of us."
ATX Services Team, with more than 200 years of collective experience, brings considerable depth and knowledge to the communications service provider space. "We like to say 'We know a thing or two, because we have seen a thing or two,'" adds Cox, happily copping to his theft of a popular ad slogan from what he believes is a related industry. "In a way, we're also about providing insurance to our customers."
Thanks to the efforts of Cox and his team over the past couple of years, ATX is providing Professional Services and Consultancy to assist some of the largest service providers in the world to achieve their goals and visions, whether it is inside plant or outside plant design, media distribution engineering and deployment, or in-field support of access and optical setup.
A trusted provider of RF technology for cable operators for more than 30 years, ATX's recent expansion of its expertise and product portfolio into the outside plant portion of the HFC network opens up a tremendous opportunity for ATX Services to help MSOs navigate the next phase of the evolution of their HFC plants, says Cox, citing the company's 2050 Project, a recently launched HFC evolution initiative.
"We are in it for the long haul, adds Cox. "ATX Services is literally looking to be your partner for the next 30 years."
Discover more about ATX Care and ATX Pro Services at https://atx.com/services-support/
And meet some of the team that will help Jonathan switch off those lights here.
Need Support?
Get technical support or help with existing orders quickly. ATX offers a world-class, all-inclusive, and flexible support program, delivered through a dedicated and comprehensive problem-solving organization.
Contact Customer Support at: 866.YOUR.ATX
(866.968.7289)