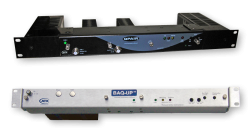 Q-Series Redundant Amplifier Systems
ATX offers 1RU redundant amplifiers, switches and power supplies.
Features
Specs & Order Info
Other Documents
QPAIR
The QPAIR redundant amplifier system offers 2 amplifiers, 2 power supplies and 1 RF sensing redundancy switch. It monitors amplifiers and power supplies, has an LED indicator and form C alarm contacts, 100-240 VAC or -48 VAC power (40-60 VDC), and a hot-swappable amplifier.
BAQ-UP / QRED
The BAQ-UP / QRED integrated amplifier and redundant switch features a modular amplifier with gain and slope controls and front panel test points. It is ideal for implementing legacy QRAM in a redundant configuration.
QRPS
The key elements of the QRPS rack mount -48 to 24/28 VDC power supply are redundancy, hot-swappable, relay alarm contacts and optional diode OR'ed output.
Stay Connected
Get the latest info on all of ATX's solutions, new products and events.