Node Segmentation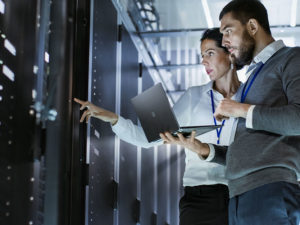 In combination with wavelength multiplexing, node segmentation remains one of the most effective techniques for meeting steady increases in bandwidth demand. The cable infrastructure is a shared environment, making it possible to increase the bandwidth available to each subscriber by reducing the size of a serving area. Splitting or adding nodes to outside plant effectively provides subscribers with access to a larger portion of the pipe feeding into their serving areas. Over the past decade or so, cable operators have steadily reduced the size of serving groups from 1000-500 to less than 100.
Multiple successions of node-splitting exercises have impacted other portions of the access network. The need for additional RF management and other processing resources in the headend has created significant space and power constraints. Most MSOs are now pursuing distributed architectures or virtualizing CCAP functionality to relieve some of this strain by moving a portion of headend functionality to optical nodes deep in the network and by transitioning to a software-only model that leverages commercial-off-the-shelf (COTS) equipment and virtualization technologies, including SDN and NfV. Node segmentation is also putting constraints on existing fiber plants. The 6-to-8 fibers that most MSOs first strung between their headends and HFC nodes in initial network buildouts — and that were once believed to be inexhaustible — are now running out of capacity.
An effective node segmentation strategy that pushes operators toward providing subscribers with gigabit-or-better broadband involves each portion of the access network. ATX Networks offers a comprehensive portfolio of solutions that enable MSOs to reduce the size of serving areas and extend the capacity of their fiber access networks, while also dealing with power and space constraints in the headend. The ATX MAXNET, MAXNET II and SignalOn RF Management platforms are market-leading solutions for splitting and combining RF services in a space-efficient and cost-effective manner.
Benefits of ATX's Node Segmentation Solutions
Support for both analog and digital optics enables MSOs to maximize the capacity of fiber access networks regardless of status of architecture evolution
Provides capacity growth to support gigabit-plus broadband services and beyond
Sets up cable operators to migrate headend equipment to virtualized environment, reducing power and freeing up rack space
Improves the overall operational efficiency of network
Direct modulation transmitters capable of supporting 40 wavelengths per fiber free up headend rack space and greatly increase the number of node segments served from an existing fiber plantIndustry-leading RF management density significant reduces rack-space footprint in headends.