Blog
June 2, 2021
How to Capitalize on Commercial Video's Post-COVID Comeback
By Joe McGarvey, Senior Director, Marketing |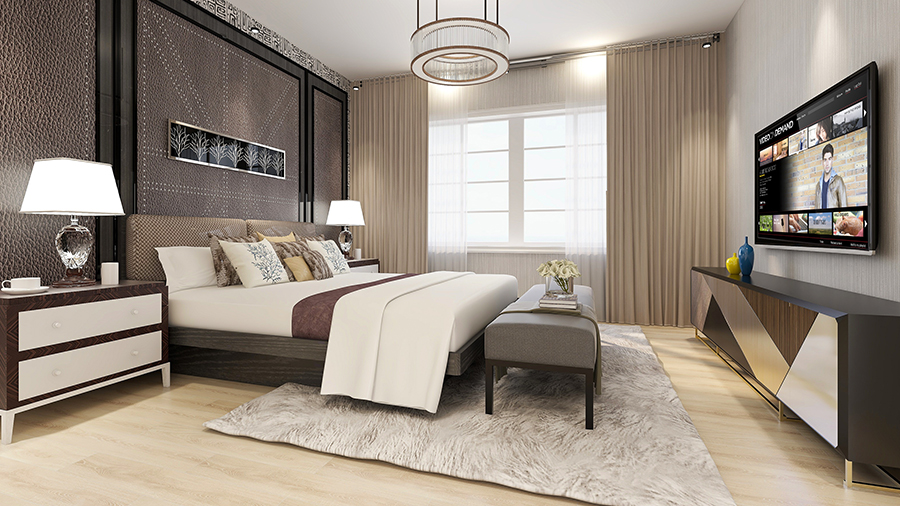 Much has been made — and rightfully celebrated — about the way broadband service providers were able to accommodate the surge of traffic, especially in the upstream, resulting from the COVID-related relocation of the workforce in the spring of 2020. Unlike so many other industries negatively impacted by the global pandemic, service providers, at least on the residential side of the ledger, have been pretty much business as usual since much of the world went into shut-down mode.
But for every surge, there's usually a slump, which is probably too inadequate a word to describe the falloff in business suffered by commercial video service providers. Demand dropped dramatically for commercial video services, of course, because communal gatherings and travel were essentially verboten worldwide beginning in March of last year. Sports arenas and hotels became ghost towns and suffered massive financial setbacks.
Early in the pandemic, the U.S. hospitality industry was losing about $534 million a day, according to the EMSI website. The intensity of that financial devastation, which impacted pretty much the entire planet, is only now beginning to let up. That means that hotels and other commercial venues where multiple people gather pretty much put a hold on all expenditures related to enhancing the customer experience. No guests? No one watching TV? No need to upgrade or expand video services.
The good news is that as vaccination programs progress and regions begin to relax pandemic-related restrictions, communal venues, such as hotels and sports arenas, should begin to sprout life. Much of the U.S. is already allowing stadiums and other public locations to host a percentage — often between 10-30 — of the venue's capacity, while more Americans are traveling by air and other means than at any time since stay-in-place guidelines were issued in the spring of 2020.
New Opportunities
The hospitality and entertainment industries getting back to business is definitely good news for video operators looking to cash in on pent-up demand for upgrades and enhancement to their video services. But whatever business does come back, you can bet it won't be business as usual — and that's even better news for PayTV providers.
The reality is that the post-COVID hospitality industry, like most other business verticals, will need to adapt to a new normal and essentially reinvent the way it attracts customers and retains their loyalty. And speaking of loyalty, one likely casualty of the new normal will be the influence of loyalty or rewards programs, which were probably the dominant factor in determining hotel selection in the pre-COVID era. Experts are now predicting that cleanliness and safety will hold sway when it comes to picking out a hotel, threatening the importance of loyalty programs.
The potential diminished influence of loyalty programs means a new era of competition for hotels and hotel chains, which now see an opportunity to capture the business of travelers once fiercely faithful to industry rivals. Beyond cleanliness and safety, hotels are planning to offer other perks to lure in the post-COVID wave of business and pleasure travelers and differentiate their lodgings from the competition. At the top of that list is a superior in-room experience.
And that's where commercial video service providers come in.
But whatever business does come back, you can bet it won't be business as usual — and that's even better news for PayTV providers.
New In-Room Experience
It only makes sense that those who did travel for business or otherwise during the peak of the pandemic spent more time in front of their hotel room TVs than usual, given the obvious health risks. Recent data compiled by Enseo and highlighted by this Hotel Management online article validates that assumption. Television viewership among hotel guests grew nearly 50% in 2020, according to the research.
Expect that trend to continue, even as business travel begins to pick up and COVID sanctions relax. Until communities reach herd immunity levels, hotel guests will likely continue to opt to watch the big game in their rooms or perhaps a secluded corner of the hotel bar. The bottom line is that with guests expecting to spend more time in their rooms, hotels want to make sure the entertainment experience is at a level that will likely lead to repeat business.
The challenge for the hospitality industry is that most travelers have upped their game when it comes to video consumption since going into lockdown. For starters, and again to the surprise of no one, consumers are streaming more content than ever. Daily consumption of streaming media, as measured by Nielsen, went from about 10 billion minutes daily in the US in April 2019 to roughly 27 billion minutes a day in April of 2020. In addition, housebound video watchers, often cooped up with multiple people, have grown use to watching video on any device and in any corner of the house or apartment not currently occupied.
That's why providers of commercial video services would be wise to supply their hospitality clients with commercial services gateways capable of delivering TV viewers entertainment experiences they've become accustomed to in the past year or so. That means making sure your solution offers integrated and easy-to-access streaming capabilities that can deliver linear TV content to any network-connected device. Mom, dad and the two kids want to watch four different channels at the same time, from anywhere in the hotel — gym, pool, spa, lobby? No problem.
And it's imperative that a post-COVID streaming media experience for hospitality guests be as seamless and as accessible as possible. That means no convoluted log-ins or applications to download. Just point at a program to stream and start watching. Accessing linear TV inside a hotel should be even easier than commercial streaming TV service applications, many of which won't work across international borders.
And don't forget about branding. Hotels and other hospitality business owners would go gaga over a solution that enabled them to insert hotel branding into the guest entertainment experience.
Integrated Streaming
Hospitality customers would also line up for commercial video solutions that integrate top-notch streaming services into the platform. That's because commercial services gateways that integrate streaming capabilities, generating potentially hundreds of streaming channels, will not eat up expensive Internet bandwidth. Left to their own devices, literally, for streaming entertainment, guests will grab content directly from Internet streaming services, chewing up the hotel's bandwidth in the process. An integrated streaming solution can help commercial venues reduce monthly Internet fees or enable them to reallocate bandwidth to other in-room amenities, such as a robust Internet connection for work-related activities, like immersive video conferencing sessions.
It may take a year or longer for the travel and hospitality industries to begin to resemble what they were in the pre-pandemic economy. But hospitality venues are now on the road to recovery, and shopping around for client-capturing video solutions. The best bet for commercial video service providers looking to capitalize on this opportunity is to offer your customers commercial services gateways and solutions capable of taking the in-room entertainment experience to new levels.