Channel Insertion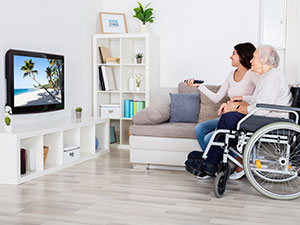 Cable operators routinely provide businesses, such as hotels, hospitals, apartments, sports venues and other commercial locations, with the ability to insert local programming into the video services they provide their guests and customers. Examples of local content for these "extra" channels include feeds from lobby cameras in an apartment building, welcome channels at a hotel or in-house feeds delivered across college campuses, sporting venues or other commercial accounts.
The challenge for MSOs is that the delivery of this strategically valuable service is often disrupted by mismatches between the format of local content and the video services provided by the cable operator, as well as the end-user equipment used for consuming the content. For example, the conversion of analog channels to digital format by MSOs in recent years poses a problem with commercial businesses that still rely on analog devices to provide local content, such as security feeds. These businesses require solutions that convert video generated on the premises to a digital format for display on digital-only televisions or set-top boxes (STBs).
MSOs are further challenged by a lack of solutions that offer the performance and flexibility required to cost-efficiently meet the needs of their commercial accounts. Existing channel insertion solutions often fall short in terms of scalability, functionality, energy efficiency and ease-of-use, all attributes essential to a profitable channel insertion offering.
ATX Networks offers cable operators a broad breadth of local content insertion solutions that perform a variety of functions, including encoding, muxing and channel add/drop, while offering industry-leading scalability, power efficiency and ease-of-use. The DVIS family of digital video insertion solutions are packaged in secure, hardened enclosures and optimized for MDUs, hospitality sites and enterprises without server rooms. ATX's DigiVu solutions are rack-mounted, space-efficient channel insertion solutions designed for secure environments. The PD100 is a low cost MPEG-2 or H.264 single channel encoding device used in CATV systems, security or hospitality applications where linear IP video is required. The professional-grade PD1000 HD encoder modulation system allows users to encode HD, SD and HD-SDI signals in MPEG-2 or H.264 formats, all in a single rack unit.
ATX's Channel Insertion Solution Benefits
Integrated channel deletion filters in a small form factor enable MSOs to efficiently meet the needs of their customers without the requirement of additional hardware
Modular nature of platforms enables MSOs to optimize solution to meet the specific resource requirements of an application
Extensive monitoring capabilities and integration with the ATX Monitoring Server enables MSOs to significantly reduce operational expenses
Platforms support a pay-as-you-grow model that enables MSO to add more channels or support additional capabilities and formats at an incremental cost
Modular design also enables MSOs to support future technology innovations in a seamless and cost-effective manner through the addition of new functionality through add-on cards