Audio Distribution & Management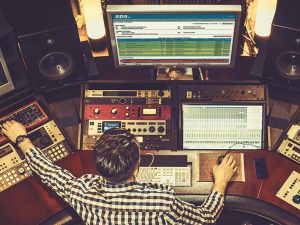 Both large and small radio networks are under growing pressure to reduce costs and improve the efficiency and capabilities of their content distribution and network control infrastructures, as well as improve the efficiency of the monetization operations.
Preventing radio networks and individual stations from realizing these goals is a shortage of fully integrated and comprehensive solutions that streamline all aspects of content distribution and bring greater efficiency to the targeted placement of commercial spots, local programs, and other monetization concerns. As an alternative, radio networks must cobble together multicomponent and multivendor solutions that only loosely integrate automation and sales and traffic systems, as well as ad insertion operations. Also lacking is a cloud-based management and control system that enables engineers and others to take control of their end-to-end operations from any Internet-connected device and from anywhere in the world.
ATX is the worldwide leader in the radio broadcast gateway market. The company's field-proven XDS radio distribution platform helps small and large radio networks deliver, schedule, and playout live and pre-recorded audio, via satellite or the Internet, to radio stations throughout the world, for AM/FM and or streaming broadcast. The fully integrated XDS platform seamlessly manages localized ads, weather, news, and any other content over live and pre-recorded programming. It is the most innovative, advanced, and cost-effective radio and audio broadcasting platform in the world.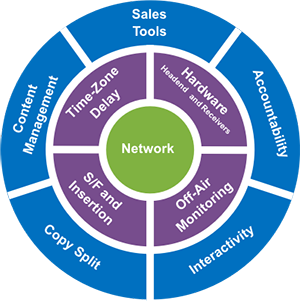 XDS Audio Distribution Platform Capabilities
Distribution of live and pre-recorded content
Spot insertion, program replacement
Time zone delay/delayed playback
Advanced scheduling
Pre-recorded channels and virtual channels
Complete integration with sales, traffic, and automation systems
Off-air play monitoring and verification
Web-based control and management
Open APIs that enable easy integration with third-party systems
Accountability (at receiver and broadcast levels)
The XDS Platform is the best choice if you:
Need distribution of live and prerecorded content
Need automated management and scheduling of live and prerecorded content
Need ability to insert localized content
Need to be able to monitor and verify playout for affiliate affidavits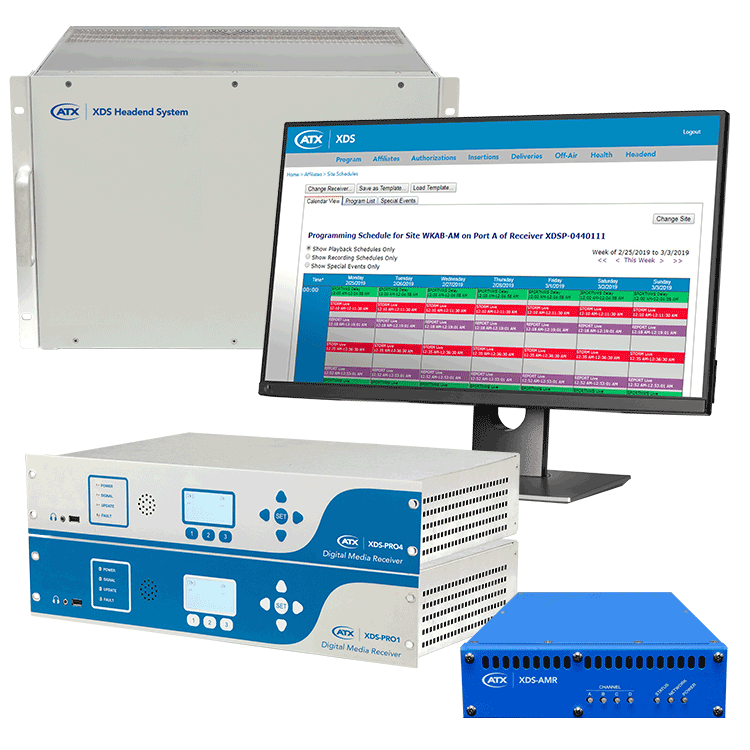 Content Management, Distribution, Scheduling and Monitoring for Radio Networks
XDS Headend Components
---

Xpress System
Four stereo inputs
MPEG1 layer II
AAC-LC, AAC-HEv1, AAC-HEv2 optional
Multiple rate encoding per source
RDS data via RS-232
Relay Closure commands via UDP and RS-232
Four synchronous MPEG inputs
DSP based encoding
Solid state, Made in USA
DVB-Multiplexer Features
Generates DVB/MPEG transport
One ASI input
Two ASI outputs
Can generate TDT and PCRs 10/100BaseT Ethernet port
Alarm port and M&C via RS-232
Can filter PIDs for multiple carriers
Can generate streams from store playlists and content
DHCP, NFS, HTTP, Telnet
Scalable VME Chassis
Redundant power supplies
Can handle from 4 up to 80 channels in one chassis
Can be daisy chained for more channels
---
XDS Headend
---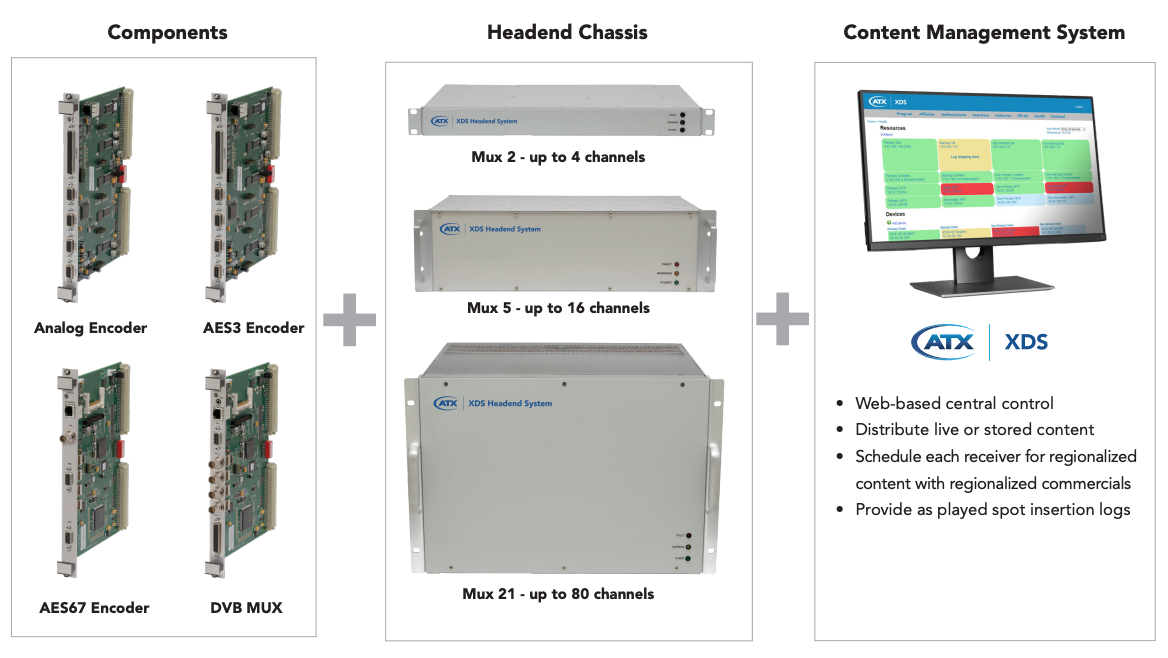 ---
XDS Content Management
---
Receiver & Network Configuration Management
Through the satellite or the internet
Receiver health tracking and monitoring
Advanced Scheduler
Schedule network or localized programs for a specific site
Schedule time-shifting events
Schedule live or recorded program objects over live and recorded programs
Store & Forward & File Delivery
Through the satellite or the internet
Content can be delivered to local storage or a network share
Delivery tracking and confirmation
Copy Split for Regional Commercial Insertion
Insert regionalized content on each position of every commercial break
Insert different regionalized content on time-shifted programs
Insertion tracking and confirmation

---
XDS Software Components
---

XDS Features
Web-based central control
Distribute live or stored content
Schedule each receiver for regionalized content with regionalized commercials
Provide as played spot insertion logs
Web Interface
Five different web interfaces:

Administrators portal
Affiliates portal
Web services (traffic, automation, monitoring, reconciliation, digital rights management)
Streaming service
Receivers portal

Can be placed in DMZ or cloud environment
Databases
Heart of the system is a MS-SQL database
Content folders for distribution
Applications
Windows services
Create and manage in-band control channel
Distribute content
Maintain, monitor and keep the system redundant