New HFC Portfolio

HFC Page Banner
Futureproof Your Outside Plant
With GigaXtend™ Nodes, Amps and Taps & Passives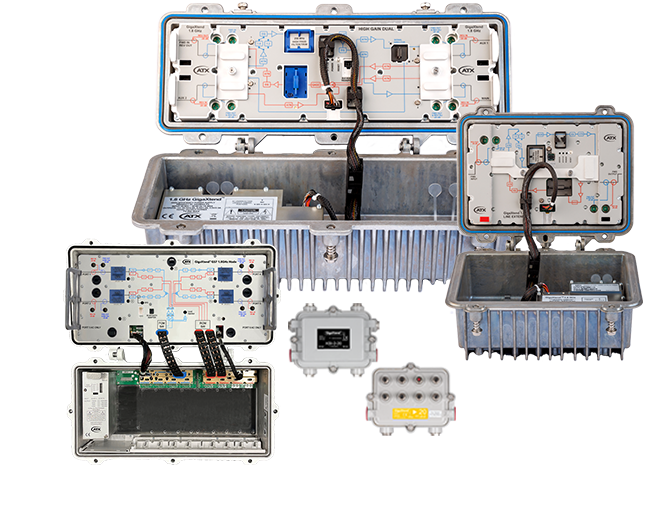 Backward-Compatible. Forward-Looking.

Extending the Lifespan of the HFC Network
The agility and upgradeability of the HFC network provides MSOs with a cost-efficient and speedy path to 10G and multigigabit symmetrical services. ATX's GigaXtend™ end-to-end outside plant portfolio, which includes nodes, amplifiers and taps and passives, offers MSOs a seamless upgrade path to optimized DOCSIS 3.1 and DOCSIS 4.0 architectures, empowering cable operators to extend previous investments largely through drop-in upgrades. The GigaXtend GS7 1.8GHz Node and GigaXtend GMC 1.8GHz and 1.2GHz HFC amplifiers enable MSOs to evolve Cisco©GS7000 Nodes and GainMaker amplifiers decades into the future. And GigaXtend hardline taps and passives are backward compatible, while also supporting 1.8GHz and higher.
Still the only authentic Cisco GainMaker-compatible amplifier on the market and now manufactured in the USA, ATX's GigaXtend GMC amplifiers inject added intelligence into the network, enabling cable technicians to install and tune 1.8GHz amplifiers through a simple-to-use application that eliminates the need for pads and plug-ins.
As a market leader, ATX works closely with ecosystem partners and standard bodies to drive innovative HFC solutions to the next level and provide MSOs a seamless transition to multigigabit symmetrical services. Always innovating, ATX is dedicated to helping MSOs evolve their networks cost-efficiently and in lockstep with market demand. In 2020, the company introduced the 2050 Project, an HFC evolution initiative designed to help MSOs navigate the gradual and decades-long coax-to-fiber transitions of their HFC networks.
Cisco, the Cisco logo, Cisco Systems, the Cisco Systems logo, and GainMaker are trademarks or registered trademarks of Cisco Systems, Inc. and/or its affiliates in the U.S. and certain other countries.
Press Releases, Blogs & More
ATX's DAA and Outside Plant Portfolio
ATX offers MSOs an extensive portfolio of next-generation inside and outside plant equipment that includes Video Engines, Digital Optical Transport, HFC Amplifiers and Hardline Passives, and conforms to all MSO architectures and specifications, including DAA, DOCSIS® 3.1, DOCSIS 4.0 and Extended Spectrum.
Featured Products & Solutions