Bulk Media Distribution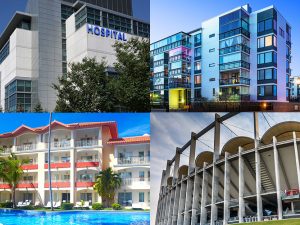 Cable and satellite operators are looking to commercial markets for growth opportunities and to offset recent declines in residential subscriptions due to cord cutting and other competitive factors. Through the bulk delivery of video and related services to MDUs, healthcare facilities and hospitality venues, such as hotels and sports arenas, Pay TV operators can reach a largely untapped and potentially lucrative commercial market.
But video service providers must overcome a host of obstacles to make their commercial media delivery offerings profitable. For starters, supporting bulk media distribution solutions in the past often required deploying solutions composed of multiple racks of equipment, a considerable capital expense, as well as costly in terms of power consumption and other operational concerns. In addition, these often-multivendor solutions were overly complex and unreliable, resulting in frequent service disruptions and the dispatching of technicians to resolve issues at the customers' location.
Additional challenges include increased security requirements by content owners, who insist that all high-resolution content be encrypted to prevent piracy and other forms of theft. Another significant deterrent to service providers looking to tap into commercial markets is the high-cost of delivering a quality experience that rivals what a guest would get at home, and one that could be used by a hotel or other hospitality business as a competitive differentiator.
ATX Networks is helping video service providers break through these market barriers with media gateways that rewrite the rules of engagement in the commercial space by consolidating the functionality of multi-rack solutions into single-box, highly efficient solutions that consume only a few inches of rack space, leading to power consumption savings as high as 90 percent over existing solutions and offering support for all major video and security formats.
ATX's Visium MD Multimedia Gateways are powering the commercial bulk delivery operations of some of the largest Pay-TV companies in the world, enabling hotels and other venues to better compete for guest bookings by delivering an in-home experience that rivals residential services. The flexible Visium MD platform supports two form factors and a market-leading variety of input and output formats. ATX's UCrypt family of media distribution gateways, which support an industry-leading number of ingest and output formats, function as transition platforms primarily for cable operators by enabling the delivery of video services to MDU environments without the need for set-top boxes (STBs) at each end point and regardless of the preferred output format.
ATX's Bulk Media Distribution Solution Benefits
Alleviates content owners concern about pirating and lost revenue by providing secure video delivery of satellite and cable content in MDUs and hospitality locations
Reduces operational, installation and power costs typically associated with bulk video distribution
Provides industry leading flexibility through support of ingest, conversion, encryption and distribution of multiple signal and stream formats
Futureproof design enables service providers to protect past investments and maintain competitive edge by seamlessly accommodating technology changes and channel-count increases
Take Your Commercial Video Business to the Next Level
Discover how ATX's Visium MD16 Multimedia Gateway can put the profit back in your commercial video business.