New HFC Portfolio

Futureproof
Your Outside Plant
Upgrade your HFC network with GigaXtend next-gen actives and passives
Backward-Compatible. Forward-Looking.

Industry's only portfolio of amplifiers and hardline passives supporting 1.8GHz and higher
ATX's GigaXtend™ family of next-generation outside plant equipment includes a full lineup of actives and passives designed to assist cable operators in extending the longevity of their HFC networks by 30 years or longer. GigaXtend is the industry's only portfolio of amplifiers and hardline taps and passives produced to help cable operators cost-effectively evolve their networks to support higher frequency ranges, starting at 1.8GHz. Read the ATX cost comparison analysis report, The ATX Maintenance Mode Taps & Passives Replacement Model, to learn about a cost-effective approach to upgrading your network for DOCSIS® 4.0.
The GigaXtend portfolio is the centerpiece of ATX's 2050 Project, a strategic vision and network evolution game plan designed to enable MSOs to double the lifespan of their HFC networks. In addition, the 2050 Project gives cable operators a formula for maintaining their dominance in broadband data delivery while stretching out their inevitable transition to an all-fiber infrastructure.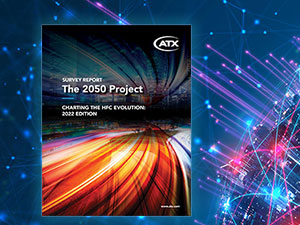 GigaXtend provides the technological foundation and roadmap for DOCSIS 4.0, Extended Spectrum and other specifications that call for incremental spectrum increases up to 1.8GHz or higher and bandwidth rates of 10Gbps and faster. This diverse portfolio is also compatible with DOCSIS 3.1. GigaXtend XS Series of 2GHz taps and passives, with platform support beyond 3GHz and industry-leading bandwidth and insertion loss, offer a perfect solution for futureproofing your HFC network. Read Ode to a Very Fast HFC Network to learn about ATX's participation in a recent speed test demonstrating DOCSIS 4.0-readiness that included the GigaXtend XS 2GHz taps and passives. ATX hardline passives also include the GigaXtend SG Series, a comprehensive line of 1.2GHz outside plant devices that are compatible with the Cisco® Surge-Gap™ portfolio.
With ATX's GigaXtend GMC Series of HFC amplifiers, MSOs can upgrade their widespread base of currently installed HFC systems while invigorating their outside plants to accommodate future spectrum increases of 1.8GHz and higher. This family of amplifiers includes 1.2GHz Line Extenders (LEs) and System Amplifiers (SAs) and is the only authentic GainMaker®-compatible amplifier on the market. GigaXtend GMC Series amplifiers are built on Cisco's trusted technology with a reputation for performance and reliability.
As a market leader driving innovative broadband HFC solutions to the next level, ATX is advancing development on a next-generation GigaXtend amplifier to support 1.8GHz and higher frequencies, while closely interacting with ecosystem partners and standard bodies to facilitate a seamless DOCSIS 4.0 transition for MSOs. We are assisting communications service providers in futureproofing and evolving their networks in lockstep with market demand.
Cisco, the Cisco logo, Cisco Systems, the Cisco Systems logo, and GainMaker are trademarks or registered trademarks of Cisco Systems, Inc. and/or its affiliates in the U.S. and certain other countries.
Press Releases, Blogs & Reports
ATX's DAA and Outside Plant Portfolio

ATX offers MSOs an extensive portfolio of next-generation inside and outside plant equipment that includes Video Engines, Digital Optical Transport, HFC Amplifiers and Hardline Passives, and conforms to all MSO architectures and specifications, including DAA, DOCSIS® 3.1, DOCSIS 4.0 and Extended Spectrum.

Featured Products & Solutions