New HFC Portfolio

Futureproof
Your Outside Plant
Upgrade your HFC network with GigaXtend next-gen actives and passives
Backward-Compatible. Forward-Looking.

Extending the lifespan of the HFC network
Taking the next step in evolving the broadband network leaves many service providers seeking ways to stretch their HFC network investments while providing competitive performance on their road to 10G. ATX's GigaXtend™ actives and passives are designed to cost-effectively extend the lifespan of HFC networks by 30 years or longer. The GigaXtend family of GainMaker®-compatible (GMC) amplifiers and hardline taps and passives are backward compatible, while also supporting 1.8GHz and higher frequencies, allowing cable operators to extend the life of their HFC network while increasing capacity. And as the only 204MHz digital return solution for Cisco® GS7000 nodes, ATX's GigaXtend Digital Return transmitters and receivers give cable operators the ability to boost upstream capacity and offer 1Gbps symmetrical service options.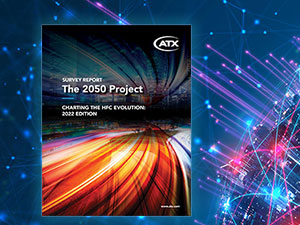 Still the only authentic Cisco GainMaker-compatible amplifier on the market and soon to be manufactured in the USA, ATX's GigaXtend GMC amplifiers deliver reliability and are drop-in upgradeable, which helps to reduce service interruptions and labor costs.
As a market leader, ATX works closely with ecosystem partners and standard bodies to drive innovative HFC solutions to the next level and provide MSOs a seamless DOCSIS® 4.0 transition – another way ATX helps communication service providers futureproof and evolve their networks in lockstep with market demand.
Cisco, the Cisco logo, Cisco Systems, the Cisco Systems logo, and GainMaker are trademarks or registered trademarks of Cisco Systems, Inc. and/or its affiliates in the U.S. and certain other countries.
Press Releases, Blogs & More
ATX's DAA and Outside Plant Portfolio

ATX offers MSOs an extensive portfolio of next-generation inside and outside plant equipment that includes Video Engines, Digital Optical Transport, HFC Amplifiers and Hardline Passives, and conforms to all MSO architectures and specifications, including DAA, DOCSIS® 3.1, DOCSIS 4.0 and Extended Spectrum.

Featured Products & Solutions