Long-Reach Digital Optical Transport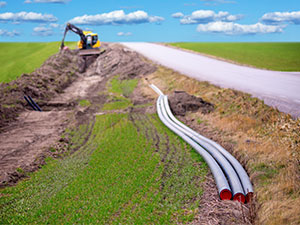 Cable operators face an array of architectural and technology crossroads over the next few years, including when and how they will transition to a Distributed Access Architecture (DAA), as well as the many options presented by the future evolution of their HFC networks. Arguably, an even more pressing transition is taking place on the business side of their operations, namely the gradual replacement of video services with high-speed broadband as the cable industry's primary revenue engine.
In a quest to organically expand their broadband footprints, cable operators are beginning to focus their attention on reaching new residential and business subscribers located in rural communities. These underserved and remote areas, sometimes located more than a hundred miles from existing headend or hub facilities, represent one of the last frontiers for cable operators looking to grow their subscriber ranks. Significant and expanding speed and bandwidth disparities between broadband services available to rural communities and communities in or near urban areas are often referred to as the Digital Divide. Closing the broadband chasm between urban and rural communities is the chief objective of government-funded broadband programs. The most recent of these initiatives in the United States is the Rural Digital Opportunity Fund, also known as RDOF.
Cable operators have historically not participated in competing for funding to deliver services to remote communities due to the expense and complexity of extending the reach of their HFC networks. Deficiencies associated with analog optics for extending services over long distances and the expense of constructing new physical locations in unserved or underserved areas have prohibited many MSOs from pursuing government-sponsored broadband initiatives. Inferior approaches to dispersion compensation have also made it difficult for cable operators to cost-effectively amplify and extend optical networks over great distances.
ATX in 2021 introduced a flexible and futureproof digital optical solution that cost-effectively helps to close the Digital Divide by overcoming distance-related challenges to delivering innovative and profitable services to remote communities. The ATX Long-Reach Digital Optical Transport solution is anchored by the GigaWave Digital Link Extender (DLX), a next-generation, highly agile and bidirectional DWDM transport platform that enables cable operators to deliver 40 wavelengths, each supporting multi-Gbps data rates, over a single fiber.
The long-distance digital optical transport solution also includes the GigaWave Digital Link Amplifier-HUB (DLA-HUB), a next-generation EDFA that enables cable operators to extend optical networks 160km or further from headends or hub sites. Equipped with a mid-stage Dispersion Compensation Module (DCM), the DLA-HUB offers several performance and cost-saving advantages over amplifiers using pre- or post-stage DCMs, including a potential reduction in the number of EDFAs and repeat stations required in long-distance deployments. The DLA-HUB enables cable operators to extend multi-Gbps services deep into remote regions, where they can be used in conjunction with Remote-OLT PON equipment to deliver FTTH services to businesses and residents, as well as provide additional services, such as wireless backhaul.
Long-Reach Digital Optical Transport
SOLUTION & BENEFITS
Cost-effectively extends the reach of digital optical networks to deliver broadband services to businesses and residential subscribers in rural communities
Provides the technical foundation that will enable cable operators to pursue government-funded rural broadband initiatives
Enables cable operators to reduce operational complexity by converging multiple services on a single fiber
Supports a variety of configuration and deployment options, including add/drop capabilities, to enable cable operators to maximize the utility of their optical networks in low-density areas
Superior dispersion compensation technology enables cable operators to reduce cost and extend their networks using fewer amplifiers
Offers cable operators the opportunity to extend their broadband footprint, helping to offset declines in video subscriptions