Blog
May 15, 2023
MSOs to FTTH Providers: "Ain't So Bad"
By Joe McGarvey, Senior Director, Marketing |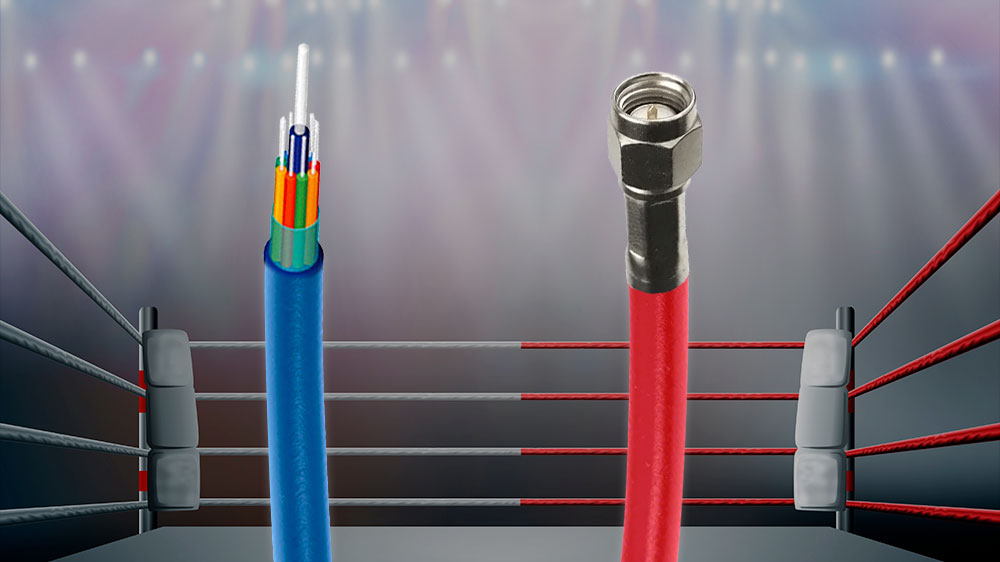 One of the many iconic scenes in the "Rocky" series of films is a battered and bloodied Sylvester Stallone defiantly taunting Mr. T with the grammatically challenged phrase featured in this blog's title. It was Rocky's way of letting his opponent know that he had his swagger back, and that he had his challenger exactly where he wanted him.
More than a hint of that sentiment comes through in the findings of our latest HFC evolution survey, the results of which, along with related analysis, are captured in this report. Many of the MSOs who completed the most recent version of the 2050 Project Survey appear to have been channeling Rocky Balboa. That's my best explanation, anyway, for what is clearly a resurgence of confidence in their ability to ward off competitive challenges from FTTH providers.
That renewed bravado is best reflected in their 2023 responses to the below question, which asked survey takers to rate the threat level of fiber-based broadband challengers.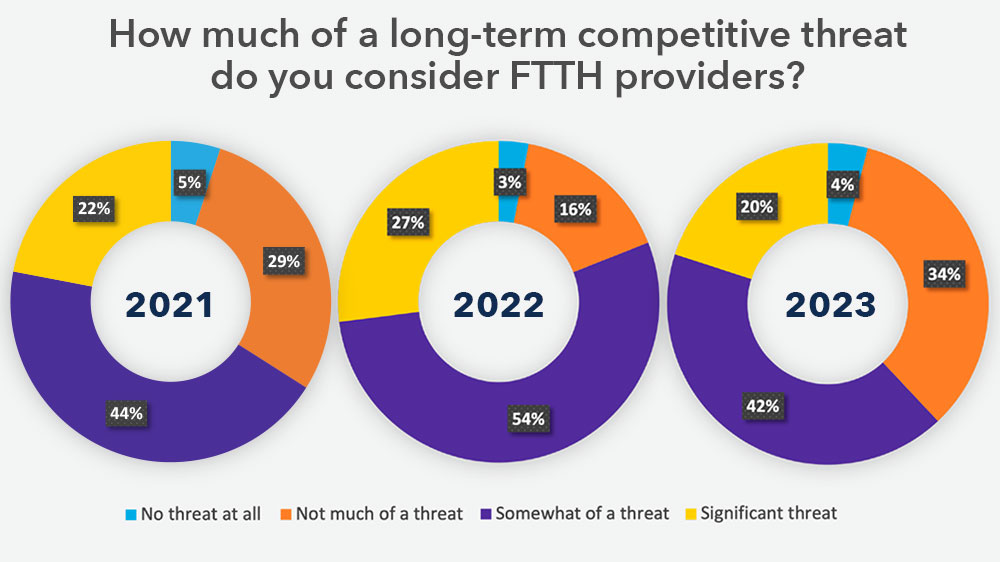 From 2021 to 2022, according to the survey, MSOs grew increasingly fearful of competitive threats from FTTH providers, with those categorizing fiber-based competitors as No threat at all or Not much of a threat shrinking from 34% of the survey universe to just 19%. Those findings indicate that MSOs were clearly less dismissive of FTTH providers in 2022 than they were the year before — and with good reason. Major telecommunications firms at that time were aggressively rolling out multigigabit, fiber-based services across their customer footprint, as well as jumping to the front of the line for the flush of public funding that would become available over the next few years.
Given that 2022 was arguably an even better year for the prospects of FTTH providers than the previous, a betting person might be inclined to wager on that same trend continuing in the 2023 survey, with even more MSOs upping their appraisal of FTTH providers as serious combatants. But that's not what happened. Instead, the cable professionals who completed this year's survey seemed to have experienced a come-to-Rocky moment.
Instead, the cable professionals who completed this year's survey seemed to have experienced a come-to-Rocky moment.
Gonna Fly Now
Nearly 40% of survey takers in 2023, as illustrated in the above graphic, rated their top contenders for the broadband heavyweight championship as No threat at all or Not much of a threat, even higher numbers than the 2021 survey revealed. The message from MSOs to FTTH providers couldn't be clearer: "You gave us your best shot and it turns out that, well, you ain't so bad."
But what could account for this seemingly paradoxical reaction to what appears to be a surge in competitiveness by FTTH providers over the past year or so? One possibility is the promise of DOCSIS 4.0, as well as its proximity to commercial readiness. The most recent results of ATX's HFC evolution survey indicate that MSOs are increasingly embracing DOCSIS 4.0, which will provide them with the ability to offer multigigabit symmetrical services, as the great equalizer in the battle with their FTTH foes. The ability to essentially match FTTH players in speed and capacity well into the future has apparently bolstered the confidence of MSOs, as reflected by this year's survey findings.
Keeping with the fisticuffs metaphor, DOCSIS 4.0 provides MSOs with the punching power to go toe-to-toe with FTTH providers for the foreseeable future. Another reason MSOs seem to have a little more life in their legs is that they recognize that speed isn't the only weapon in their arsenal. Though speed, which also translates to capacity, is a major attribute of a competitive broadband offering, future subscribers will also pick and choose among high-speed data providers based on their ability to deliver a reliable and responsive (low latency) connection that is seamlessly integrated with other communications and entertainment services. MSOs have a rich history of providing superior broadband experiences. There's no reason not to feel confident that that legacy will extend into the future.
Momentum Switch
Though the ATX survey doesn't include responses from FTTH providers, it's reasonable to speculate that fiber-based contenders might be experiencing the opposite of what cable operators are feeling right now. Recognizing that DOCSIS 4.0 puts MSOs in a strong position to defend their title for the next couple of decades or so, some FTTH providers might be growing a little anxious, wondering if their ongoing investments in capital and time to build out brand new networks are going to be effective in helping them capture meaningful market share.
What's critical now for MSOs is turning their newfound swagger into results down the road. We're still in the early rounds and its imperative that cable operators continue to execute their gameplans as if they are underdogs, keeping their eyes on the prize by driving every inefficiency out of the evolution of their HFC networks.
After getting rocked a bit with a few swift jabs in the early rounds, MSOs appear to have found the eye of the tiger.
For complete survey results, please download the 2023 Edition of the 2050 Project Survey Report. Rather view the highlight reel? Tune into this on-demand replay of an April 27th webcast where ATX outside plant experts discuss the survey's key findings.