Blog
October 7, 2020
Pandemics, Disasters Raise Channel Insertion Profile
By Joe McGarvey, Senior Director, Marketing |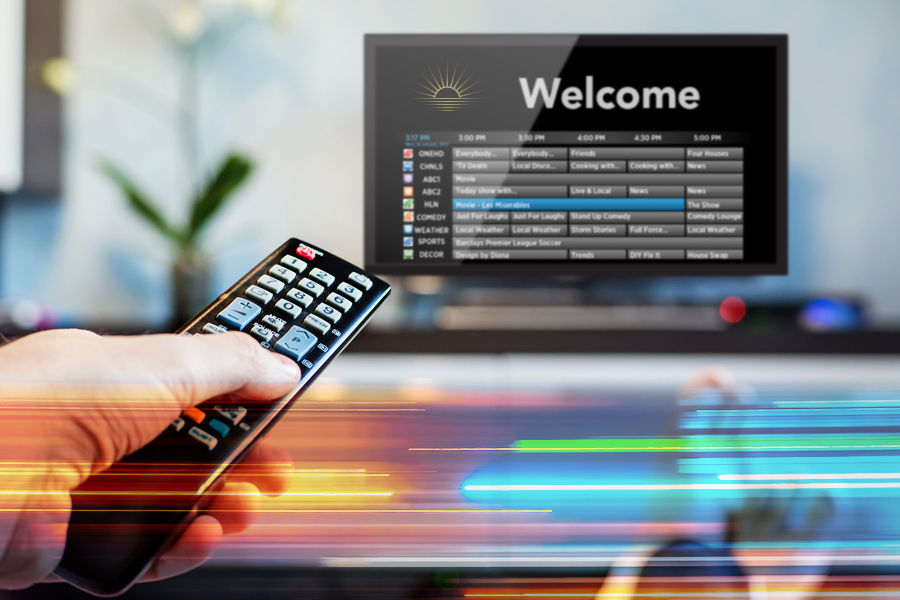 So much has changed about our day-to-day lives over the past seven months or so: the way we work, how we buy groceries, how our children learn and even what we wear and how we behave when we venture outside. Normalcy, like Elvis, left the building sometime around the middle of March.
But if there's one daily ritual that has remained consistent across our pre-COVID and COVID worlds, it's watching television. In fact, humans around the globe are spending more and more time in front of their TVs. That's not exactly shocking. Television viewership almost always spikes following an event that puts the outside — even if just for a few days — off limits. TV viewership in Houston, for example, increased by 56% in the summer of 2017 during Hurricane Harvey, as measured by Nielsen and mentioned in this 2020 Tech Crunch article.
If there's a bright side to this new normal, it might be that increases in television watching due to pandemics or natural disasters may actually offer a revenue opportunity for MSOs and others delivering video services to commercial properties, such as apartment complexes, gated communities and senior care facilities. With communal residents increasingly glued to their televisions, management at these facilities is recognizing the value of conveying information through the insertion of local content into regular television services.
Extra Channels
"If there's a bright side to this new normal, it might be that increases in television watching due to pandemics or natural disasters may actually offer a revenue opportunity for MSOs and others delivering video services to commercial properties."
Channel insertion isn't a new concept by any stretch. Cable operators routinely provide businesses, such as hotels, hospitals, apartments, sports venues and other commercial locations, with the ability to insert local programming into the video services they provide their guests and customers. Examples of local content for these "extra" channels include feeds from lobby cameras in an apartment building, welcome channels at a hotel or in-house feeds delivered across college campuses, sporting venues or other commercial accounts.
In addition to integrating this valuable information into regular channel lineups, content insertion systems often have to resolve mismatches between the format of local content and the video services provided by the cable operator, as well as the end-user equipment used for consuming the content. For example, the conversion of analog channels to a digital format by MSOs in recent years has presented a problem to commercial businesses that still rely on analog devices to provide local content, such as security feeds.
What's changed recently is that the outbreak of widespread and severe health crises, along with severe weather and environmental events, has cast a new spotlight on the use of channel insertion technology to provide commercial communities with timely and relevant information. In recent months, an increasing number of senior care facilities, for example, have expressed interest in inserting local content containing news and information into their residents' television services, observing that many seniors rely on television, rather than the Internet, for entertainment and information.
That observation is validated by data. During the first quarter of 2020, 94% of Americans 65 or older spent at least some of their time each week watching television, according to the August 2020 edition of The Nielsen Total Audience Report. During that same time period, seniors consumed almost 55 hours of television weekly. Americans in the age range of 35-49, by contrast, watched just shy of 33 hours of TV each week.
But it's not just senior care communities that are driving new demands for channel insertion. Management at other communal environments, such as apartment complexes, country clubs and gated communities, is also recognizing the value of leveraging television services to provide guests and residents with increasingly frequent policy changes and updates.
Extensive Portfolio
ATX is helping to meet this demand by offering service providers and commercial properties a variety of inexpensive and easy-to-use channel insertion solutions. ATX encoding systems enable new channels carrying localized content, such as public health bulletins, event calendars and security feeds, to be programmed in minutes, leveraging content sourced from cameras, media devices and even PCs equipped with HDMI output.
These platforms are available in multiple form factors and perform a variety of functions, including encoding, muxing and channel add/drop, while offering industry-leading scalability, power efficiency and ease-of-use.
Augmenting existing television programming with local content tailored to the interests and needs of residents of commercial properties has long been a compelling value proposition for operators servicing these communities — even during normal times. In these new-normal times, the need for channel insertion technology is only going to grow.