Press Release
October 22, 2019
ATX Networks Introduces New Generation of Audio Receivers for Radio Networks
New XDS-PROS receivers set new benchmarks in storage, performance, automation and complexity reduction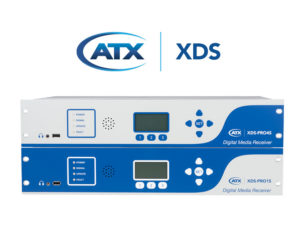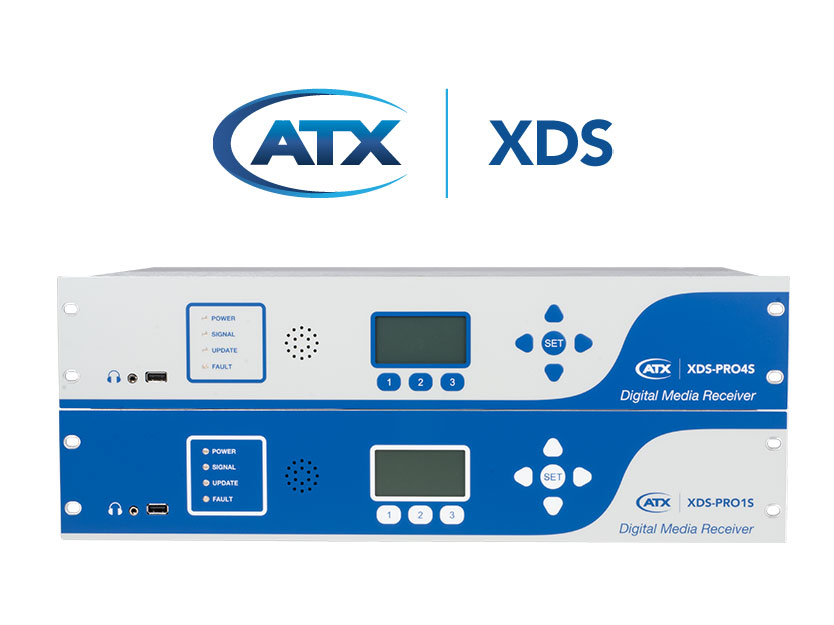 DALLAS, Oct. 22, 2019 – ATX Networks, a global leader in broadband access and media distribution solutions, introduced a new receiver family to its industry-leading XDS Audio Content Management, Distribution & Monitoring Platform. The new receivers, the XDS-PRO1S and XDS-PRO4S, are designed to enable network operators and stations to futureproof their networks while significantly increasing performance, cutting costs, reducing complexity and elevating their operations to new levels of automation and simplicity.
"ATX Networks is reinforcing its commitment to the still-vibrant radio industry with two new receivers designed to deliver unprecedented performance and reliability," said Jose Rivero, General Manager and CTO, Media Broadcast at ATX. "Building on our industry leadership in the audio distribution and content management arena, the latest XDS Platform innovations provide network operators with the agility to revolutionize their operations while meeting the ever-increasing demands of today's radio listeners. This is one more step in our quest to reinvent radio distribution for network operators around the world."
XDS-PRO digital audio receivers are positioned at radio stations to receive audio broadcasts distributed over satellite or IP (Internet) distribution networks. Both the one- and four-channel systems can receive live content and programs that can be stored for later playout. In addition to copy splitting and targeted advertising, XDS receivers enable spot rotation, program scheduling, audio insertion and digital live recording with playback to delay time-zone feeds.
The new receivers deliver several improvements over previous models, already the most widely deployed in the industry, including installations at the largest radio networks in the world. Both the one- and four-channel versions of the new receivers ship with a 256GB solid-state drive (SSD), doubling the amount of storage previously available and providing networks with approximately 30 days of additional storage capabilities. The added storage provides radio networks, affiliates and stations with the flexibility to better utilize cost- and complexity-reducing procedures, including delayed and repeat playback, that help to eliminate reliance on standalone functionality, such as external storage resources and automation systems.
Improved support for Audio over IP (AoIP) in the XDS-PROS models also contributes to potential cost-efficiency improvements and complexity reductions. Moving everything to IP, including metadata and triggers, assists radio networks in eliminating costly physical interfaces and improving performance. The new receivers simultaneously support 44kHz and 48kHz sample rates, enabling a gradual transition to the higher frequency.
A third major update to the receivers is the addition of an Ethernet network interface card. A third 100Base-T Ethernet port significantly strengthens resiliency and reliability by enabling radio networks to stream content from multiple sources over independent paths, ensuring programming is not interrupted even in the event of disruptions to a distribution source. In addition, ATX has introduced several software updates, including improved Forward Error Correction (FEC), to the new receivers that contribute to overall reliability and reduce latency.
ATX will be introducing the new equipment in conjunction with a deployment with one of the largest radio distribution networks in the United States. The new receivers will be commercially available for all radio networks and stations across the world later this month.
For more information, please visit www.atx.com.
About ATX Networks
ATX Networks is a global leader in broadband access and media distribution solutions. Every second of every day, our market-leading and award-winning solutions transport more than 2,500 terabytes of data between smart devices and intelligent networks. ATX is teaming with the world's most innovative cable, satellite, fixed telecom, wireless and media broadcast service providers to usher in a new generation of ubiquitous gigabit broadband. For further information, visit ATX at www.atx.com, and follow us on Twitter @ATXNetworksCorp.