Press Release
September 7, 2022
ATX Networks Introduces Next-Generation Local Channel Insertion Solution
IP-based successor to company's venerable DVIS platform significantly reduces MSOs' operational burden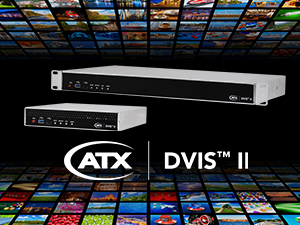 TORONTO, Sept. 7, 2022 – ATX Networks, a global leader in broadband access and media distribution solutions, will be debuting DVIS™ II, the company's next-generation, IP-based local channel insertion platform, at this month's SCTE Cable-Tec Expo.
The new solution enables MSOs to assist bulk accounts, such as Multi-Dwelling Units (MDUs), apartment buildings, retirement facilities and enterprise customers, in adding lobby feeds and other locally generated content into television channel lineups. DVIS II supports both QAM- and IP-based environments, offers unrivaled deployment flexibility and significantly reduces operational overhead for MSOs and other service providers.
"ATX designed DVIS II to make it as convenient and cost-efficient as possible for MSOs converting their services to IP while continuing to provide their bulk video customers with the ability to view local content, such as information channels and other live local content, alongside traditional television programming lineups," said Andrew Isherwood, General Manager and CTO of Media Distribution at ATX. "Our newest channel insertion system provides cable operators with a choice of operational models, ranging from productizing some or all elements of the solution internally, or leveraging ATX to provide the solution as a managed and hosted service."
The DVIS II platform consists of a low-cost, premises-located edge encoder paired with ATX's Enhanced Origin Server, a low-latency software engine hosted within an MSO datacenter, the public cloud or even on the premises of large enterprise customers with local area networks. ATX's Enhanced Origin Server also features customizable authentication and authorization functionality to ensure that only end clients associated with the appropriate accounts receive the local content.
DVIS II is the successor to the original DVIS platform, a widely deployed local insertion solution that played an instrumental role in assisting MSOs in enabling locally generated content to be viewed by subscribers with QAM-based set-top boxes (STBs) as cable operators converted their television services from analog to digital. The ongoing migration from QAM-based video services to IP has similarly created a demand for insertion solutions that can convert baseband signals from cameras and other sources into channels that can be consumed by IP-based STBs.
"Our new local channel insertion solution, at its core, is extending the functionality of the legacy DVIS platform, which is installed in thousands of MDUs and commercial properties," added Isherwood. "This time around, though, we've streamlined the overall operation and made it even more cost-efficient and convenient for service providers to deliver this still-relevant service to their bulk video customers."
In addition to also supporting QAM-based output, which allows service providers to simultaneously support local insertion at properties with a mix of QAM and IP endpoints, DVIS II is managed by ATX's Visium™ Manager, an all-purpose element management system that can control Visium MD multimedia gateways and the Visium Set-Back Box (SBB) security adapter, significantly simplifying the installation, monitoring and maintenance of potentially thousands of DVIS II encoders.
ATX will showcase DVIS II at SCTE Cable-Tec Expo 2022, the cable industry's premier conference and tradeshow held in Philadelphia, PA, September 19-22. Please visit ATX's booth (9019) for more information about DVIS II, as well as other solutions in the company's media distribution portfolio.
For more information, please visit www.atx.com
About ATX Networks
ATX Networks is a global leader in broadband access and media distribution solutions. ATX's market-leading and award-winning solutions are based on Agile Innovation design principles, enabling communications service providers to futureproof and evolve their networks in lockstep with market demand. ATX partners with the world's most innovative cable, satellite, fixed telecom, wireless and media broadcast service providers to improve people's lives by enabling affordable and reliable broadband connectivity and media content for everyone, everywhere For further information, visit ATX at www.atx.com, and follow us on Twitter @ATXNetworksCorp.