Press Release
April 5, 2023
ATX Networks Revs up Amplifier Production at New USA-based Manufacturing Plant
Opening of Michigan facility enables company to expand existing manufacturing capabilities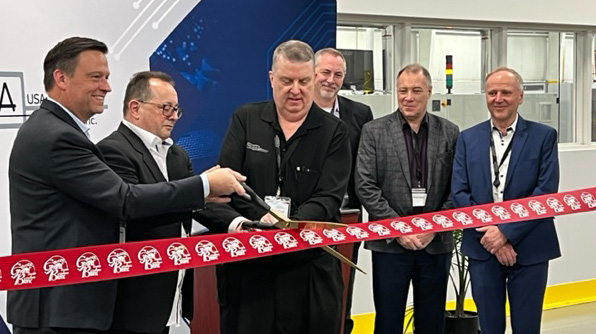 ATX and Invotek Group officials celebrate grand opening of manufacturing facility in Michigan. Left to right: Dan Whalen, ATX President and CEO; Paul LaCroix, Invotek Group CEO; Jeff Gary, Invotek Group VP Operations; Matt Grimes, ATX Sr. VP Operations; Kevin Rossi, ATX GM Access Networking; and Peter Schmied, Invotek Group President and COO
GRAND BLANC TOWNSHIP, April 5, 2023 – ATX Networks, a global leader in broadband access and media distribution solutions, this week celebrated the opening of a new manufacturing plant in Grand Blanc Township, Michigan, which will build the company's GigaXtend™ HFC amplifiers and future ATX solutions.
"A USA-based manufacturing plant enables ATX to accelerate the assembly, packaging and shipping of ATX products while expanding our overall manufacturing capabilities to meet the time-to-market needs of our customers," said Dan Whalen, CEO of ATX Networks, at the April 4th grand opening (far left in photo). "In addition to helping us keep supply chain constraints in check, a U.S. manufacturing facility has the potential to assist MSOs working to shrink the digital divide leveraging government funding."
The state-of-the-art facility, announced in September of last year, is owned and operated by Mara Technologies, a subsidiary of the Invotek Group. Mara incorporated an advanced and highly automated linear production line and testing capabilities into the plant's design for high-volume and high-quality production of outside plant products.
The plant will initially produce ATX's widely deployed GainMaker®-compatible GigaXtend amplifiers.
Multiple industry analysts are predicting that MSOs will make once-in-a-generation investments in the expansion of their HFC infrastructures over the next several years. The new facility provides ATX's customers with assurances that the company will be able to scale manufacturing operations to meet the expected increase in demand. In addition, MSOs seeking public funding for expansions into rural regions and other underserved or unserved communities are incentivized by the terms of government subsidies to purchase equipment manufactured in the U.S.
"We are honored to have ATX as an anchor tenant and assist in expanding the company's manufacturing capabilities," said Peter Schmied, President & COO of the Invotek Group of companies. "As demand for HFC amplifiers increases, the cable community can count on ATX to deliver the HFC products they need — when they need them — in lockstep with customer demand."
For more information, please visit www.atx.com
About ATX Networks
ATX Networks is a global leader in broadband access and media distribution solutions. ATX's market-leading and award-winning solutions are based on Agile Innovation design principles, enabling communications service providers to futureproof and evolve their networks in lockstep with market demand. ATX partners with the world's most innovative cable, satellite, fixed telecom, wireless and media broadcast service providers to improve people's lives by enabling affordable and reliable broadband connectivity and media content for everyone, everywhere. For further information, visit ATX at www.atx.com, and follow us on Twitter @ATXNetworksCorp.
Media Contact
Diana Gudiño
Connect2 Communications
310-993-3635
[email protected]