Press Release
April 9, 2020
ATX Revolutionizes Radio Distribution with Latest Release of Content Management System
New version of software pushes performance and efficiency boundaries through centralization and virtualization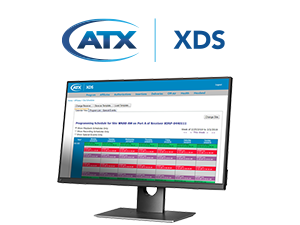 DALLAS, April 9, 2020 –
ATX Networks, a global leader in audio content management, distribution and monitoring, unveiled the latest version of its content management system for its industry-leading audio distribution platform. The newest version of the XDS Content Management System empowers network operators to achieve new performance and cost-efficiency milestones by leveraging virtualized and cloud environments for their audio distribution operations.
A prominent enhancement to the software-based solution is support for the most recent versions of major operating systems and database platforms, enabling network operators to take advantages of the cost efficiency and flexibility of virtualized and cloud environments. The new version of the XDS Content Management System also provides additional centralization capabilities and openness, further facilitating the simplification of complex operational environments and network health monitoring.
"The continued success of network operators depends heavily on their ability to cut operational costs and seamlessly evolve their networks through technology advances to meet the expanding needs of listeners while fending off competitive threats," said Jose Rivero, General Manager and CTO, Media Broadcast at ATX. "Achieving those goals hinges heavily on the adoption of a new breed of audio distribution technology that enables network operators to reduce costs, increase performance and seize upon the benefits of software-defined tools and IP-based transport."
ATX's XDS Content Management System is a software-based solution designed to enable radio networks to deliver dynamic localized content and increase performance and productivity through automation and the elimination of overlapping features and functions. Web-based centralized control enables network operators to precisely and automatically distribute and schedule live or stored content to receivers located at stations or affiliates. A centralized model also streamlines the sales organization, empowering account managers to sell spots in multiple markets or even regions, but still offering their clients the ability to customize their ads, station IDs, Interstitials and programming to specific markets.
By adding support for the latest versions of Microsoft Windows Server and SQL Server, as well as .Net Framework 4.0, ATX enables network operators to deploy their audio distribution and monitoring operations in virtualized server- and cloud-based environments. The business-improving benefits of server virtualization include reduced hardware costs, improved network resiliency and recovery, deployment flexibility and significant operational savings.
ATX has also added improved status monitoring and network management to the XDS platform through the centralization of configuration, status and management information. Providing network operators with a single repository for storing all configuration information, as well as enabling third-party interoperability through open Application Programming Interfaces (APIs), greatly simplifies the tracking, monitoring and management of an end-to-end, fully integrated audio distribution system.
"It's imperative that today's audio distribution and content management systems offer flexible and open APIs that facilitate the integration of configuration and the back-office business solutions that are so crucial to the network's financial health," added Rivero. "The fact that most broadcast platforms are made up of a series of discrete components that must be managed and controlled separately, rather than a fully integrated solution, is a significant operational challenge — and cost concern — for network operators."
Additional enhancements to the platform include support for the latest protocols and standards that promote the seamless transition of network operators to a low-latency, IP-based distribution environment.
The new version of the XDS Content Management System is now available. For more information about ATX's market-leading audio content management, distribution and monitoring solutions, please visit www.atx.com.
About ATX Networks
ATX Networks is a global leader in broadband access and media distribution solutions. ATX's market-leading and award-winning solutions are based on Agile Innovation design principles, enabling communications service providers to futureproof and evolve their networks in lockstep with market demand. ATX partners with the world's most innovative cable, satellite, fixed telecom, wireless and media broadcast service providers to usher in a new era of ubiquitous gigabit broadband that will meet the communications needs of this generation and the next. For further information, visit ATX at www.atx.com, and follow us on Twitter @ATXNetworksCorp.