Press Release
September 28, 2023
ATX to Showcase Broadband, Media Distribution and Energy Storage Expertise at SCTE Cable-Tec Expo 2023
ATX will share knowledge and best practices on deploying and managing better broadband networks at cable conference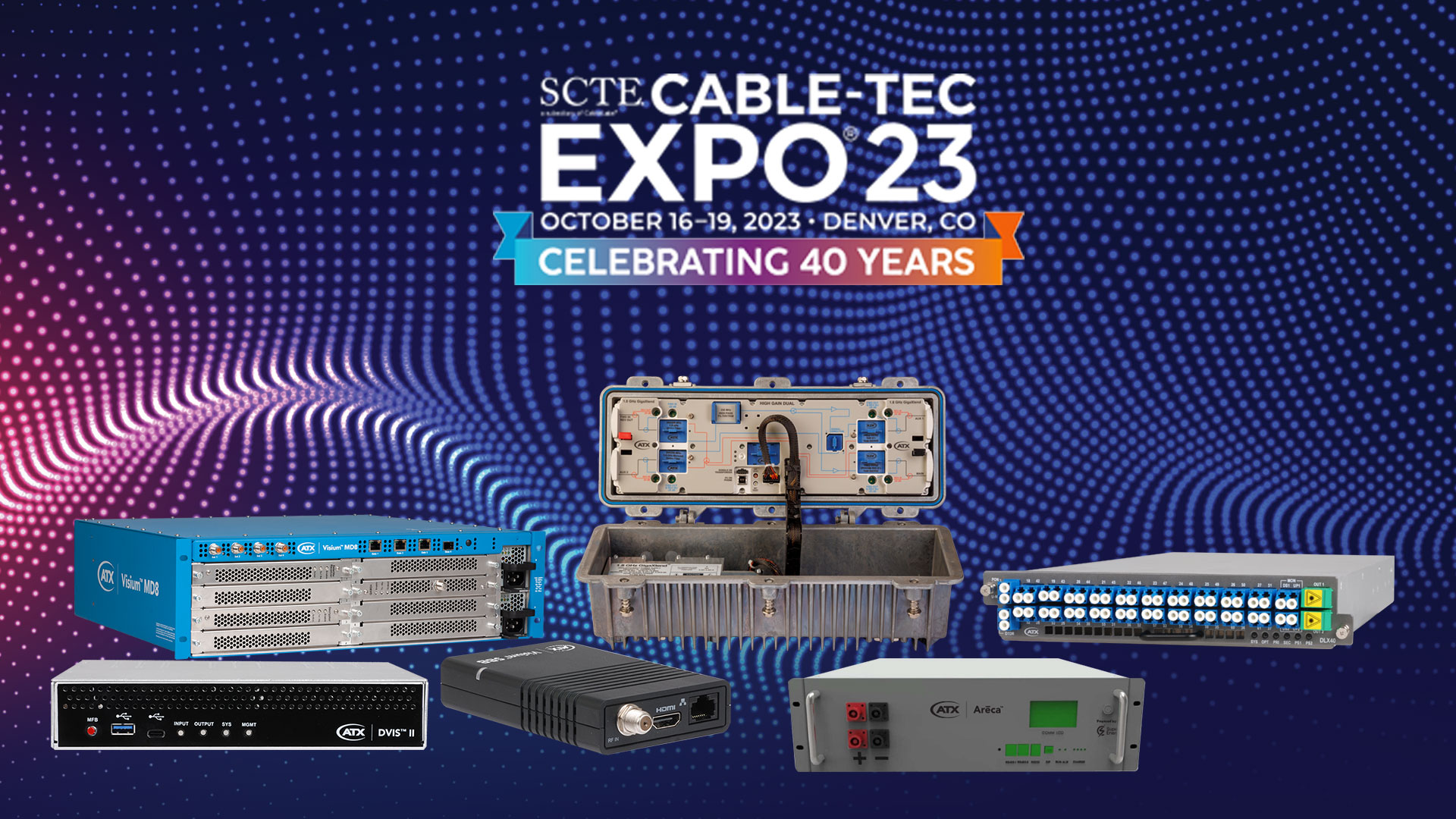 SAN DIEGO, September 26, 2023 – ATX Networks, a global leader in broadband access and media distribution solutions, will contribute its expertise to multiple programs at SCTE Cable-Tec Expo 2023, held October 16-19, in Denver, Colo. The event brings together thousands of broadband technology and cable media professionals to learn, collaborate and innovate. ATX will participate in the event's technical sessions, Innovation Theater, Sustainability & Circularity Pavilion and expo hall, sharing best practices and showcasing solutions that will help MSOs deliver better broadband everywhere.
The migration to DOCSIS® 4.0 and expansion of spectrum to 1.8GHz represent a monumental opportunity for the cable industry to completely reimagine the broadband experience and differentiate service offerings from the competition. In booth 1101, ATX will spotlight market-leading solutions that will enable the node-to-tap renovation of the outside plant, empowering MSOs to bring better broadband to their communities by easing the transition to DOCSIS 4.0 and 1.8GHz and building Hybrid Fiber-Coaxial (HFC) networks that are faster, smarter, more reliable and easier to troubleshoot and maintain than ever before.
"SCTE Cable-Tec Expo affords ATX the opportunity to demonstrate our continued commitment to the seamless and cost-efficient evolution of the HFC network," said ATX President and CEO Dan Whalen. "Through panel discussions, presentations and product demonstration, ATX will outline how we are helping MSOs leverage existing investments, avoid regrettable spend and create new sources of revenue as cable operators take what is already the best broadband experience in the world to a new level."
Better Broadband Everywhere
Recent outside plant innovations to be spotlighted at ATX's Cable-Tec Expo booth include the company's GigaXtend™ GMC 1.8GHz HFC amplifier portfolio, a full family of line extenders, system amplifiers and booster amps. Backward compatible with both GigaXtend GMC 1.2GHz amplifiers and the installed base of GainMaker® amplifiers, GigaXtend 1.8GHz amplifiers offer MSOs new levels of intelligence, enabling technicians to install and configure amps using a highly graphical and intuitive software application. Compatible with iOS and Android devices that attach to ATX amplifiers and nodes through a Bluetooth adapter, the ATX GigaXtend Orchestrator will make its global debut at this year's Cable-Tec Expo.
Other solutions from ATX's access network portfolio to be showcased at the annual cable industry event include GigaXtend 2GHz taps and passives and the GigaWave™ Digital Optical Transport Solution, which combines the GigaWave DLX optical gateway and GigaWave DLA-HUB digital optical amplifier to extend 10Gbps ethernet connections and robust broadband services deep into unserved and underserved communities.
Attendees will also have an opportunity to preview ATX's 1.8GHz successor to the GS7000 Node, the popular and widely deployed HFC node technology that ATX licensed from Cisco© at the end of 2022. ATX will feature the new platform in its booth and demonstrate its support for third-party DAA and other technology modules, enabling MSOs to take a best-of-breed approach to the adoption of future access architectures.
Elevate the End-User Experience
ATX booth visitors will also have the opportunity to explore the latest advances of the Visium™ MD Commercial Services Gateway, a next-gen edge-computing and bulk video solution that is the centerpiece of the company's media distribution ecosystem. Additional media distribution solutions include the commercially available Visium Set-Back Box, a low-cost, Pro:Idiom-compliant security adapter and Interactive Program Guide (IPG) for non-commercial televisions, and the DVIS™ II, an IP-compatible local channel insertion solution.
Next-Gen Energy Storage
ATX will be featured in the Cable-Tec Expo's Sustainability & Circularity Pavilion, where it will showcase its Areca™ Energy Storage modules — ATX's next-gen hybrid supercapacitor-based backup power solutions that are safer, more reliable, greener and more cost-efficient than alternative energy storage mediums. The next-gen energy storage solutions will also be showcased in ATX's booth, alongside the company's professional services offerings, an extensive portfolio of vendor-neutral network transformation services that MSOs are increasingly relying on for the evolution of their broadband networks.
ATX will present at the SCTE Cable-Tec Expo Innovation Theater—the event's knowledge hub where business, operational and technology leaders share insights on the latest developments and opportunities for the industry. ATX will offer its expertise on how MSOs can withstand competitive challenges by focusing on delivering reliable multigigabit services that provide exceptional customer experience.
The full slate of ATX's Cable-Tec Expo speaking engagements and presentations include:
Tuesday, October 17, 7:30-9 AM
Light Reading Breakfast, Maxing Out the Cable HFC Network, with ATX CTO Jay Lee
Tuesday, October 17, 8-9:15 AM
Power Asset Management: Reducing Operating Costs, Increasing Sustainability, and Enabling Monetization, with Doug Ridley, ATX Director of Engineering, Professional Services
Tuesday, October 17, 2:30-3:15 PM
Beyond Speed: Why MSOs are Primed to Deliver the Best Broadband Experience on the Planet, with ATX Executives Dan Whalen and Jay Lee, ATX Board Member Sandra Howe and customer guest
Wednesday, October 18, 8-9:15 AM
From Clouds to Cables: Overcoming Challenges and Embracing the Future in Network Deployment (En Español), with ATX Technical Solutions Sales Engineer Gustavo Colly
Thursday, October 19, 8-9:30 AM
SCTE/ANGA Global Broadband Tech Breakfast Presented by BTR, with ATX CTO Jay Lee
For more information and a preview of all ATX solutions featured at Cable-Tec Expo, please visit www.atx.com/scte-2023.
About ATX Networks
ATX Networks is a global leader in broadband access and media distribution solutions. ATX's market-leading and award-winning solutions are based on Agile Innovation design principles, enabling communications service providers to futureproof and evolve their networks in lockstep with market demand. ATX partners with the world's most innovative cable, satellite, fixed telecom, wireless and media broadcast service providers to improve people's lives by enabling affordable and reliable broadband connectivity and media content for everyone, everywhere. For further information, visit ATX at www.atx.com, and follow us on LinkedIn.