Press Release
February 5, 2018
Charlie Vogt Named President and CEO of ATX Networks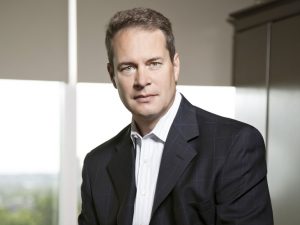 Ajax, Ontario Feb. 5, 2018 – ATX Networks ("ATX or the "Company"), a market-leading global provider of network infrastructure systems and commercial video solutions, has appointed Charlie Vogt as President and Chief Executive Officer. The 30-year information technology and communications leader joins ATX following four successful years as President and CEO of Imagine Communications, where he transformed the company from Harris Broadcast to Imagine Communications and GatesAir, and led the media and broadcast industry's transition to IP, software and cloud technologies. Vogt succeeds Ken Wildgoose, who led the company as its President and then CEO for the last 18 years.  Mr. Wildgoose will remain with ATX as an advisor and continue to serve on the Company's Board of Directors.
"It has been an honor to lead ATX Networks and to be a part of the Company's incredible team of dedicated employees," said Mr. Wildgoose. "Charlie is a visionary and strategic thinker with a decades-long track record of hyper growth in the service provider and media communications industries. His passion and expertise in conjunction with the Company's talented team and exciting new initiatives in the cable HFC access network and commercial video gateway markets positions ATX for an exciting and promising next chapter."
"Ken Wildgoose has led ATX through several technology lifecycles and growth, both organically and through strategic acquisitions," said Camilo E. Horvilleur, board member of ATX Networks and Managing Director of H.I.G. Capital. "We thank Ken for his years of leadership and look forward to continuing to work with him as a member of the Company's Board of Directors. With a distinguished history of successfully building, transforming and growing companies, spanning the service provider and media communications industries, Charlie was a logical choice to succeed Ken."
"ATX Networks has a strong history of innovation and is well respected by its cable, satellite and enterprise clients," said Mr. Vogt. "I have spent most of my career championing disruptive and innovative change by ushering in new business models and competitive solutions for communication service providers and media companies. The cable, satellite and telecommunications industries are undergoing transformative change as the world embraces new advanced technologies to deliver services cheaper, faster and better than before. I am thrilled to join the Company at such an exciting time in our industry and look forward to working closely with the ATX team and its impressive lineup of customers."
Upon joining Harris Broadcast in 2013, Mr. Vogt transformed the company to Imagine Communications and GatesAir and led the media broadcast industry through its most transformative era in more than three decades by evolving SDI/baseband to next-generation software-defined, IP-enabled, virtualized networks. Today, Imagine Communications and GatesAir are recognized as global leaders in the video infrastructure, advertising management and over-the-air markets.  
Prior to Imagine Communications, Mr. Vogt was CEO of GENBAND, where he led the company's transformation from a start-up to the industry's global leader in voice and video over IP, executing six acquisitions. Under Mr. Vogt's leadership, GENBAND became no. 1 in VoIP and delivered a compound annual growth rate of ~100 percent during his eight-year tenure.  In September 2012, The Wall Street Journal named GENBAND the no. 1 private equity-backed company in America, topping a list of 5,900 companies. Mr. Vogt's professional career also included leadership roles at Taqua and Santera Systems (Tekelec), Accelerated Networks (Calix Networks), Lucent (Alcatel), Ascend Communications (Lucent), ADTRAN, Motorola and IBM.
About ATX Networks
ATX is a market-leading global provider of network infrastructure systems and commercial video solutions. Cable operators rely on ATX's network infrastructure systems to more efficiently deliver increased bandwidth and video content to their subscribers. ATX's commercial video solutions enable operators to deliver customized video and data services to hotels, healthcare facilities, MDUs and other commercial enterprises. Headquartered outside of Toronto in Ajax, Ontario, the Company also has facilities in San Jose, CA, San Diego, CA, Stuart, FL, Frankfurt, Germany, and Taiwan. More information on ATX Networks and its products is available at www.atxnetworks.com.
About H.I.G. Capital
H.I.G. Capital is a leading global private equity and alternative assets investment firm with over $24 billion of equity capital under management.* Based in Miami, and with offices in New York, Boston, Chicago, Dallas, Los Angeles, San Francisco and Atlanta in the U.S., as well as international affiliate offices in London, Hamburg, Luxembourg, Madrid, Milan, Paris, Bogota, Mexico City, and Rio de Janeiro, H.I.G. specializes in providing both debt and equity capital to small and mid-sized companies, utilizing a flexible and operationally focused/value-added approach. For more information, please refer to the H.I.G. website at www.higcapital.com.
* Based on total capital commitments managed by H.I.G. Capital and affiliates.