Press Release
February 27, 2019
PRSS Teams with ATX Networks on Revitalization of Nationwide Broadcast Network
ATX's end-to-end solution to provide public radio stations with increased performance and management capabilities
DALLAS, Feb. 27, 2019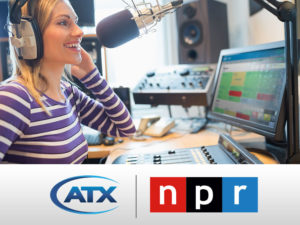 – ATX Networks, a leading provider of audio distribution technology, has signed an agreement with the Public Radio Satellite System (PRSS) to supply the national radio distributor with a next-generation solution designed to bring new functionality, reliability and control to its U.S.-based radio network. A major objective of the project is to assist the PRSS in the construction of a unified and futureproof broadcast network infrastructure for the management, distribution, scheduling, playout and verification of radio programming across its nationwide network.
Critical requirements for the PRSS, which is managed by NPR's Distribution division, are that the new broadcast system be highly flexible and extensible, enabling the broadcast system to easily introduce new features and capabilities as they become available, as well as seamlessly incorporate new technologies and standards.
"The PRSS requires a world-class broadcast network that is not only capable of delivering peak performance for the delivery of our service to our approximately 400 stations and 100 producers, but one that is also able to grow and evolve in lockstep with our business objectives," said Michael Beach, Vice President of NPR Distribution, which also manages the content delivery solution ContentDepot for the PRSS. "We require a network infrastructure that is flexible, and ATX Networks was able to deliver a solution that will meet our needs well into the future."
The installation features ATX's end-to-end radio broadcast solution, including XDS headend and receiver equipment, and the XDS Content Management System. Located at the PRSS' broadcast center at NPR's Washington headquarters, as well as its back-up network operations center in St. Paul, Minn., the XDS headend component, which includes state-of-the-art encoding and multiplexing capabilities, enables the broadcast giant to centralize and automate the distribution, playout, scheduling and verification of content. The installation also includes more than 800 XDS-PRO receivers, which will be distributed to stations across the country.
Playing a role in the selection of ATX for this mission-critical deployment is the XDS Content Management System, a cloud-based software solution that delivers exceptional management and control capabilities, which can be administered from any Internet-connected device. A centralized and powerful management and control system will assist the PRSS in streamlining the operation of its national network through improved content management and distribution, as well as the ability to provide its member stations with greater insight into and control of radio content.
Uptime and reliability are critical to the PRSS, which will require solutions that support geo-redundancy between its Washington D.C. broadcast system and a secondary site to help prevent or limit the number of costly service outages. Interoperability with the broadcaster's existing operations is also a top requirement. XDS's open Application Programming Interfaces (APIs) enabled seamless integration with the broadcaster's ContentDepot application, ensuring reliable and effective oversight and accountability of live and pre-recorded content distribution operations.
NPR Distribution is required to follow strict procedures for the selection of technology. In addition to participation in a rigorous selection process, technology suppliers are required to meet a lengthy number of regulatory requirements, as well as conform to industry standards.
"As the worldwide leader in the radio broadcast market and a current supplier of technology to the PRSS, ATX was in a strong position to meet the national broadcaster's comprehensive and exacting technology requirements," said Jose Rivero, GM, Chief Technology & Strategy Officer, Media Broadcast, ATX Networks. "We look forward to working with the PRSS to build what will be one of the most forward-looking radio broadcast networks in the industry."
A component of the agreement calls for ATX and the PRSS to jointly collaborate on additional enhancements and features, many of which will be incorporated into the commercially available XDS platform.
The project will commence in spring 2019 with the deployment of headend equipment. Deployment of receivers is scheduled to begin in the summer.
For more information, please visit www.atx.com.
About ATX Networks
ATX Networks is disrupting the future of broadband access. Every second of every day, our market-leading and award-winning solutions transport more than 2,500 terabytes of data between smart devices and intelligent networks. ATX is teaming with the world's most innovative cable, satellite, fixed telecom, wireless and media broadcast service providers to usher in a new generation of ubiquitous gigabit broadband. For further information, visit ATX at www.atx.com, and follow us on Twitter @ATXNetworksCorp.
About NPR
NPR's rigorous reporting and unsurpassed storytelling connect with millions of Americans everyday—on the air, online, and in person. NPR strives to create a more informed public—one challenged and invigorated by a deeper understanding and appreciation of events, ideas, and cultures. With a nationwide network of award-winning journalists and 17 international bureaus, NPR and its Member Stations are never far from where a story is unfolding. Listeners consider public radio an enriching and enlightening companion; they trust NPR as a daily source of unbiased independent news, and inspiring insights on life and the arts. Learn more at npr.org/about or by following NPR Extra on Facebook, Twitter and Instagram.
About the PRSS
The Public Radio Satellite System (PRSS) is the distribution network through which thousands of hours of news, music, and specialized audience programming are delivered every year to public radio stations throughout the United States. Managed by NPR Distribution, the PRSS is a unique, cooperative enterprise. Each participating station is a stakeholder in the collective assets of, and services provided by, the satellite system. Interconnected stations own their own downlink and uplink equipment. The satellite transponder capacity as well as the national operating system equipment located in Washington are owned by the Public Radio Satellite Interconnection System Charitable Trust.