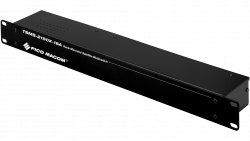 TSMS-2150X-16A
Rack-Mounted 2 x 16 Satellite Multiswitch
Features
Specs & Order Info
Other Documents
Wide frequency range 950~2150MHz (TSMS-2150X-16A)

3 Import simple interface design provides 2 satellite polarity inputs and 16 outputs, for quick installation (TSMS-2150X-16A)

PIN diode matrix reduces polarity transfer time and digital artifacts, providing consistent picture quality

500 mA voltage power pass-through reduces cost by providing satellite receiver path for LNB power

Built-in amplifier compensates for insertion losses, reducing need of external amplification

External UL approved power supply reduces heat buildup, thus increasing unit life
Specifications | Ordering Information
Specifications
Frequency

Insertion Loss

Isolation (input-input)

Isolation (output-output)

TSMS-2150X-16A

950~1750MHz
1750~2150MHz

5dB
8dB

25dB
25dB
25dB

25dB
25dB
25dB
RHCP Switching Voltage
13/14VDC
LHCP Switching Voltage
17/18VDC
LNB Current Capacity
500mA
Dimensions
19" (L) x 2.87" (D)x 1.75" (H)
Weight
TSMS-2150X-16A 5.1 lbs.
This data sheet contains branding from Pico Digital, a recent ATX subsidiary.
Stay Connected
Get the latest info on all of ATX's solutions, new products and events.