SVT200A: MPEG-2/4 Video and Audio Transcoding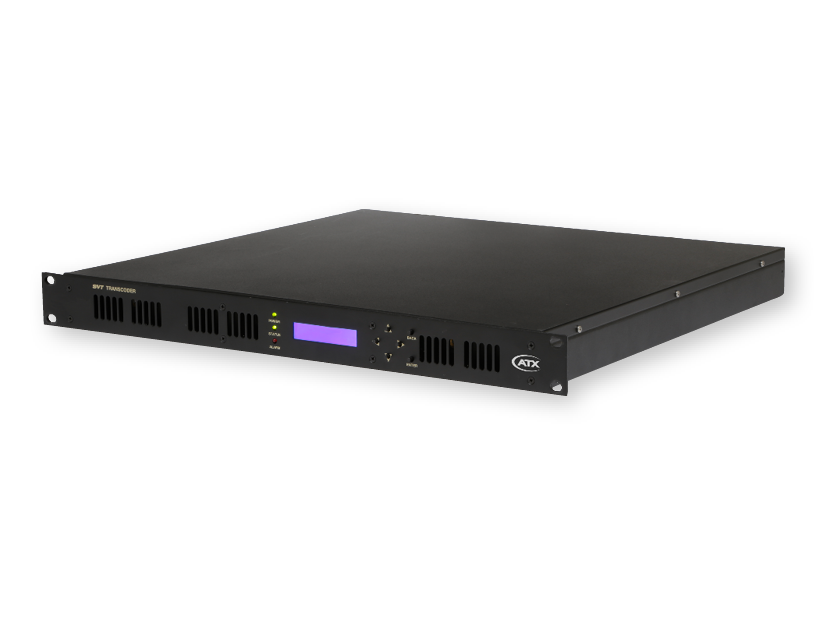 Seamless real time transcoding of television programming
Input format may be MPEG-2 or MPEG-4 in SD or HD and user may select any of these formats for output
Applications include conversion of digital delivery formats to match distribution system requirements
Can be remotely managed and monitored via ATX's Network Management System (XNMS)
Performs simultaneous real-time transcoding of 2, 4, 6 or 8 programs
Integrated web server allows local or remote access from a PC with standard Internet browser
Internal web server pages provide simple, easy navigation of all status and setup parameters
Support for external DC redundant powering
Specifications | Ordering Information
Specifications
ASI INPUTS/OUTPUTS
I/O Density:
2x, 4x, 6x, or 8x I/O pairs per unit
Connector:
75Ω BNC
Packet Format Input:
188 or 204 byte
Packet Format Output:
188 byte
MPEG Transport:
SPTS, MPTS
I/O Transport Stream Rate:
54 Mbps max, 45 Mbps max payload rate
Output Null Stuffing:
27Mbps or 54 Mbps, Fixed Rate
IP VIDEO INTERFACE

(Future Feature)




Note: This interface should be used for functional evaluation only. Video quality evaluation should be reserved for the production release version.

Number of IP Video Ports:
Single Duplex
Connector Type:
1x RJ45, 10/100/1000Base-T, Full Duplex, Auto-Neg
Ethernet MTU Size:
1518 bytes max
Addressing:
Unicast, Multicast (IGMP v1,2,3)
Transport Protocol:
UDP
Input MPEG Transport Format:
SPTS, MPTS
Output MPEG Transport Format:
SPTS
Output Encapsulation:
4 to 7 TS packets per IP packet
TRANSPORT STREAM PROCESSING
PID Remapping
MPTS Output Synchronization
Bitrate Measurement of Input Services
Integrated PSI Viewer
TRANSCODER
Transcode Module:
Dual channel, 2x I/O pairs
2x SD or 1x HD output
4x modules max per unit
8x SD or 4x HD outputs max per unit
Formats/Profiles:
MPEG-2, H.264/AVC
Video Formats:
1920 x 1080i @ 29.97Hz, 30Hz
1280 x 720p @ 59.94Hz, 60Hz
720, 704, 544, 528 x 480i @ 29.97Hz
Audio Services:
1 Pass-through per transcode
Audio Formats:
AAC, MPEG1 Layer II, Dolby® Digital AC-3
Video Bitrate:
20 Mbps max
Video Output Rate Format:
Variable Bit Rate (VBR)
Aspect Ratio:
Pass-through, AFD
MANAGEMENT
Connector:
RJ-45 10/100BaseT, Auto Negotiate
Protocols:
HTTP
User Interface:
Front Panel, Web Browser
DIMENSIONS
HxWxD:
1RU, 1.75″(4.4 cm) x 17.4″ (44.2 cm) x 17.5″ (44.5 cm)
Power:
100-240VAC 50/60Hz 75W
ENVIRONMENTAL CONDITIONS
Operating Temp:
0° to 45°C
Storage Temp:
-40°C to 65°C
Relative Operating Humidity:
<95% (non-condensing)
TRANSCODE MATRIX
SVT-A Supported Transcode Pairs
The transcoded output video is a Variable Bit Rate (VBR) Single Program Transport Stream (SPTS) programmed with the following data rates:
MPEG2 HD: 15-18 Mbps      H.264 HD: 7-10 Mbps
MPEG2 SD: 3.75-6 Mbps     H.264 SD: 1.5-4 MbpsNote: The programmed video VBR data rate is the average over 15 frames and may peak at ~ 1.5x between PCR cycles.
(Please download datasheet to view chart.)
APPLICATION
Digital Tier Distribution
The SVT Advanced Transcoder ASI and IP outputs can carry multiple transcoded video programs for efficient digital tier distribution.
Network Reception and Backhaul
Receive network and live feeds via ASI and simultaneously transcode to the required digital video compression format for distribution. The ASI transport stream outputs can carry multiple transcoded programs for efficient distribution of services.
HD to SD Down-Conversion
Convert HD broadcasts to SD for support of an existing distribution infrastructure.