Blog
August 3, 2021
Are Cable Operators as Concerned About FTTH Providers as They Should be?
By Joe McGarvey, Senior Director, Marketing |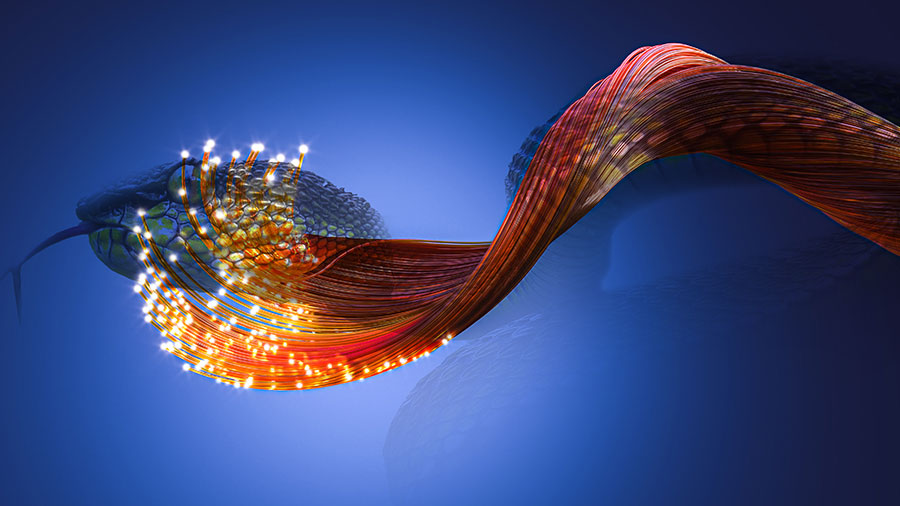 At the beginning of 2021, we asked a universe of roughly 100 cable industry professionals who took the ATX HFC network evolution survey to express their concern level over the long-term competitive threat posed by Fiber-To-The-Home (FTTH) broadband providers.
Nearly 45% of survey takers considered the challenge from FTTH-based services to be "Somewhat significant," which was the top response. Almost 30% of respondents at the time rated FTTH providers as "Not much of a threat," topping the number of survey takers who viewed fiber-based competitors as a "Significant threat" by 7 percent.
How much of a long-term competitive threat do you consider FTTH providers?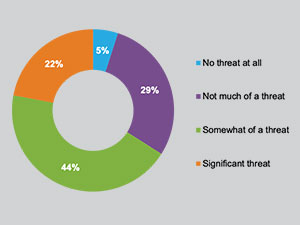 Given the long-term dominant position of cable operators in the delivery of residential broadband services, the confidence of continued market leadership expressed in the survey is probably warranted. Despite steady predictions over the past decade or so that broadband customers would eventually exercise a preference for all-fiber connections over hybrid fiber/coax, cable operators have largely maintained their market share lead, especially in North America, by offering a faster and overall superior experience.
But things have a way of changing pretty quickly these days, and the competitive dynamics in the cable industry have altered in two meaningful ways since the beginning of the year — when we posed the above survey question. The first is the staggering amount of public funding that's been proposed to not just obliterate the Digital Divide, but to help elevate broadband to the status of a utility, similar to electricity in its importance to cultural and economic advancement.
Digital Disparities
Momentum around closing the Digital Divide took off after COVID-related Work-From-Home (WFH) policies cast a spotlight on disparities between digital haves and digital have-nots and how the imbalance can profoundly impact employment, education and potentially healthcare opportunities and outcomes in the future. The close inspection of digital disparities between urban and rural communities, as well as developed and undeveloped nations, set off a flurry of public broadband infrastructure initiatives, including a proposal by the incoming Biden administration to spend $100 billion on broadband initiatives.
How this influx of public funding could impact competitive dynamics is explored in this recent blog, which suggests that much of the proposed investment will go toward FTTH build-outs, potentially expanding the size and accelerating the availability of broadband offerings capable of delivering symmetrical gigabit services. If fiber-based gigabit-plus services quickly proliferate, the blog argues, cable operators may need to up the bandwidth and speed of their HFC networks sooner than expected to counter the competitive threat.
The second market dynamic — potentially related to the first — threatening to alter the balance of broadband power, is aggressive action by multiple telcos to grow their high-speed data businesses. The most recent and, arguably, most aggressive is AT&T's commitment to expanding its fiber footprint, which closely followed the company's spin-off of much of its content assets. This recent Light Reading article on the topic nicely aggregates and analyzes recent public moves and statements by AT&T that seem to signal that the telco senses an opportunity to leapfrog cable competitors by promoting fiber-based services as superior to those offered over HFC networks.
Fighting Chance?
Recent comments by company officials make it crystal clear, if it wasn't already, AT&T believes that it can compete head-to-head with cable where it offers fiber connections. That, of course, remains to be seen. What data is available, though, seems to suggest that telcos have at least a fighting chance when they take on cable companies with fiber, rather than copper-based services. The below quote is from an online article from telecompetitor that cites recent research from MoffetNathanson.
Long term, the analysts see cable having a 50% broadband market share in markets in which they compete with FTTH—significantly less than cable's 85% market share against VDSL and 95% market share against DSL.
The good news for cable operators is that they are far from defenseless in fending off fiber- and wireless-based competition over the next several years. The bandwidth and speed potential of the HFC network does has a ceiling, and cable operators will eventually need to complete the HFC-to-FTTH transitions that have been underway for years. But there's still a lot of room for growth in today's HFC networks, starting with squeezing additional spectrum out of DOCSIS® 3.1.
The next bandwidth plateau, the 10G Promised Land, though, will require adoption of the Extended Spectrum flavor of DOCSIS 4.0. But cable operators are also well positioned on that front, as upgrading their HFC networks to deliver multi-gigabit symmetrical services can largely be accomplished through in-place upgrades and without the construction and regulatory hassles of FTTH build-outs.
Next Up?
But what happens next? A looming question for cable operators, and one not likely to be settled this decade, is whether or not 4.0 will be the last version of DOCSIS they install in their networks before shifting all bandwidth and speed expansion investment toward FTTH. The answer to that question is dependent on multiple variables, of course, such as the growth of customer demand and the pace of their HFC-to-FTTH migrations, not to mention the always-shifting costs of fiber-based construction and the availability of resources to complete it.
It's also unlikely that cable operators will have any additional insight on their need for speed beyond DOCSIS 4.0 by the end of this year, when ATX launches the 2022 version of the 2050 Project HFC network evolution survey. But you can probably expect, given how the competitive landscape has evolved over the past six months, that more than 22% of survey takers will indicate they consider FTTH competitors a "Significant threat" when asked to rate their long-term competitive concerns.
Cable operators may not need to go all the way to DEFCON 1 when it comes to fears about fiber-based competitors, at least for now. But registering even a little uptick in paranoia toward FTTH providers is probably a healthy thing.