Blog
January 15, 2021
RDOF and the Dawning of Smart Farming
By Dan Whalen, ATX President & CEO |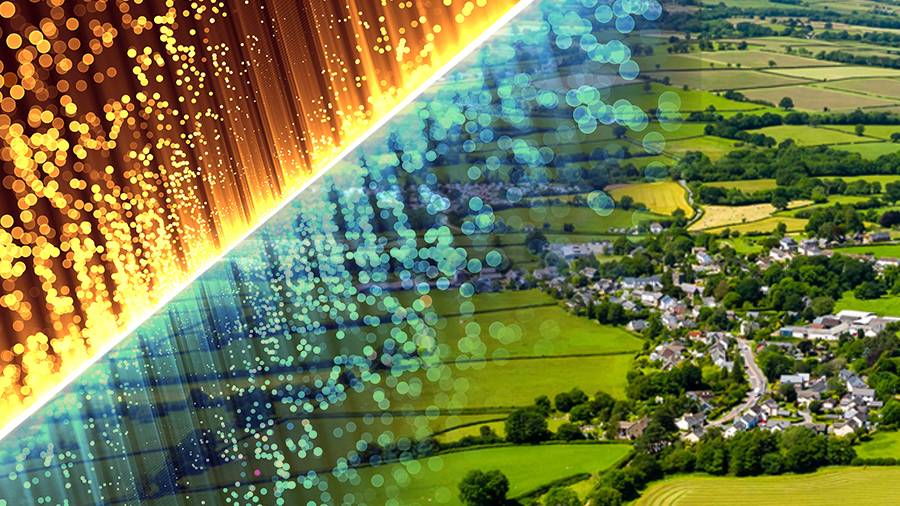 The broadband industry exited arguably its craziest year with what sure feels like some very promising momentum toward closing the digital divide. The Federal Communications Commission (FCC) in December unveiled the winning bidders in phase 1 of the Rural Digital Opportunity Fund (RDOF) reverse auction, a process that allocated more than $9 billion in federal funds to deliver heavy-duty broadband services to more than 5 million Americans in unserved rural areas. Total funding for the overall initiative exceeds $20 billion.
Government funding programs that incent communications providers to extend voice and high-speed Internet services to rural communities go back several decades. What's different about RDOF is that it targets 97% of impacted locations with broadband speeds of 100/20Mbps (downstream/upstream) or higher, and, more importantly, multiple cable operators participated in the auction. In fact, Charter Communications was one of the bigger winners in the first-round auction. The MSO was awarded $1.22 billion to bring high-speed broadband to more than a million locations, according to published reports.
So why are cable operators, traditionally spectators when it comes to pursuing funding for rural expansion, suddenly enthusiastic about extending their footprints into sparsely populated regions? Likely, the two most prominent reasons are the pursuit of new business and recent technology advances that make delivery possible and more economical.
Broadening Ambitions
"But there's another, bigger reason MSOs are seizing on the RDOF initiative to bring high-speed broadband to millions of underserved citizens: It's the right thing
to do."
In many ways, rural communities represent MSOs' last frontier of customer acquisition. It's no secret that in this golden age of streaming video services, high-speed broadband is now the primary and future revenue engine for most cable operators. It only makes sense that MSOs are now setting their sights on the only remaining patches of population that are underserved or not served at all when it comes to broadband access. That the government is going to pick up a large portion of the tab for this considerable expansion project makes RDOF even more attractive.
And MSOs have an eye on more than just adding basic ARPU in going after rural customers. Growing evidence suggests that rural communities could be an untapped opportunity for revenue-generating innovation. The FCC, in a recent report penned by Katherine LoPiccalo of the Office of Economics and Analytics, has already uncovered a correlation between an increase in the penetration of broadband into these communities and improvements in crop yields, as well as reductions in operational costs related to fertilization and seeding.
Among my findings, a 1% increase in the number of 20+/3+ connections per 1,000 households in a county is associated with an approximately 3.6% increase in corn yields, and a 3.8% increase in soybean yields.
The noted broadband speed in the FCC study is 25Mbps downstream and 3Mbps upstream. Imagine the possibilities when farms and other rural locations have access to broadband rates that are four-times-or-more faster, which are the target numbers of the RDOF initiative. That kind of speed and bandwidth will empower farmers to invest in all kinds of innovation to boost production and reduce operational expenses, including IoT-connected sensors that will automate irrigation systems and self-operating equipment that will leverage AI and other data-driven processes to deliver peak efficiency. The innovation possibilities of Smart Farming are virtually limitless.
But it's not just farms and other remote businesses that will be a source of future innovation and revenue for MSOs. Many rural communities are hundreds of miles from state-of-the-art hospitals and medical facilities. Providing these residents with a broadband pipe big enough for meaningful patient monitoring or even virtual treatment will be a boom for telemedicine. The same goes for remote learning and labor, which require faster and faster symmetrical connections as virtual teaching and Work-From-Home practices grow in sophistication.
Technology Breakthroughs
The second reason MSOs are increasingly gung-ho about rural expansion is the availability of new technology that enables them to reach these far-flung communities with innovative services more cost-effectively than in the past. That's where ATX, a provider of long-reach digital optical solutions offering industry-leading dispersion compensation capabilities, comes in. Look for more news in the coming weeks about how ATX is helping MSOs of all sizes realize their rural expansion ambitions by providing the foundation for advanced and profitable services to rural regions.
But there's another, bigger reason MSOs are seizing on the RDOF initiative to bring high-speed broadband to millions of underserved citizens: It's the right thing to do. The reality is that broadband is no longer just a business venture. The cable industry, as illustrated by this recent CableLabs blog about the life-improving possibilities of high-speed broadband services, is increasingly recognizing that the connectivity it delivers is essential to the advancement and wellbeing of mankind.
It's undisputed that the digital divide between urban and rural communities is already negatively impacting the lives and earning potential of those on the slower end of the speed spectrum. This disparity, and the resulting consequences, will become only more pronounced as connection speeds increase and more and more sophisticated broadband services move into the mainstream. The situation is well articulated in a December 2020 letter issued from the NTCA –The Rural Broadband Association and the Fiber Broadband Association to the FCC, excerpted below, that calls for a new "gigabit symmetrical" bandwidth benchmark.
We need to plan ahead, building networks that are both useful now and will remain useful in more than a decade when Americans will rely upon them to an even greater extent for so many aspects of everyday life. To achieve a fully connected future and avoid perpetuating digital divides, we cannot afford to resign some Americans to second-class service – we need to aim higher and do better.
ATX could not agree more. We too are looking ahead – as far out as 2050 – with the recognition that today's HFC networks are capable of evolving to deliver high-performance and affordable broadband services that future applications, including telemedicine and AI- and VR-aided virtual learning, will require. Reducing the digital divide through support for RDOF-related expansion to underserved communities is a great way to kick-start a more digitally equitable future, and we're excited to be part of it!