Let's Get Started
The installation of the first fiber nodes in the cable access plant in the early 1990s gave birth to the Hybrid Fiber-Coax network. What seemed like an inauspicious event at the time, turned out to be the launch date of the world's most robust and resilient infrastructure for the delivery of broadband services. Thirty years later, the HFC network remains without rival in reach, reliably and agility — better able to react to fluctuations in traffic rates and consumer bandwidth demands than any other broadband medium. The 2050 Project is a long-term outside plant evolution initiative from ATX that provides cable operators with a roadmap for doubling the longevity of their HFC networks.
The 2050 Project is also ATX's commitment to assisting MSOs with the migration of their massive coaxial cable plants to fiber in the most cost-effective manner possible and without surrendering their dominance in broadband service delivery.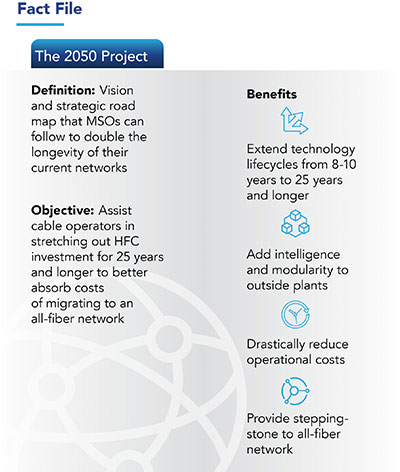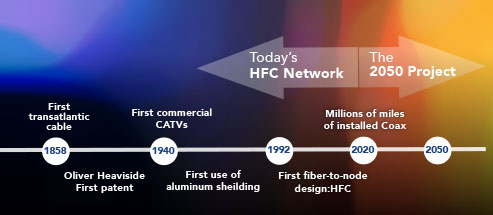 This site contains everything you need for a complete understanding and exploration of the 2050 Project, including links to thought-leadership white papers, surveys, webinars, news articles and information about innovative products that offer MSOs the agility to start building their networks of the future today.
Think Big. Go Long.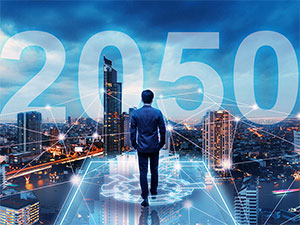 Fiber is the future. But replacing millions of miles of coax will take decades – and cost billions. The only way MSOs can manage the long-term migration to an all-fiber infrastructure without falling behind competitively is through incremental boosts of bandwidths to customers served by HFC networks. A two-part information series from ATX offers MSOs a game plan for fending off a variety of competitive threats and insights into the best way to evolve their network to meet the communications requirements of the next several decades. It also offers an element-by-element evaluation of the readiness of current HFC infrastructures to support frequency upgrades beginning at 1.8GHz.
DOWNLOAD PART I DOWNLOAD PART II


Sticker Shock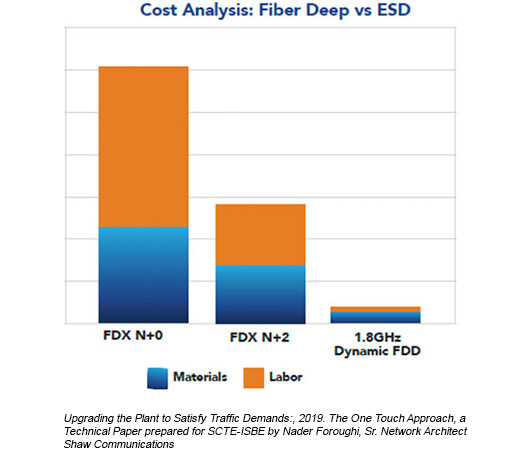 MSOs are now grappling with the exorbitant costs of taking fiber deep into the HFC network, let alone all the way to homes and businesses. Some are even running into logistical issues, like shortages of skilled labor and overcoming onerous permitting requirements, that place limits on how quickly MSOs can infuse their infrastructures with fiber. The chart below illustrates the relative cost differences between moving to a Node+0 or even a Node+2 architecture to achieve additional capacity versus extending spectrum to 1.8GHz using the FDD version of DOCSIS 4.0. This chart is from a recent white paper, Upgrading the Plant to Solve Traffic Demands, presented by a Shaw Communications engineer at the 2019 SCTE Tec-Expo Conference.

For more details and to access the full report, click here.
Is Coax Capable?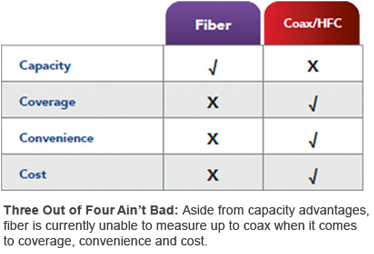 Coaxial cable is a modern marvel that actually originated in the 19th century. Its ironclad design made it the logical choice for the first transcontinental cable, way back in 1858. Since then, cable operators have threaded millions of miles of coax into neighborhoods around the world. Just one US MSO alone estimates that it manages 700,000 miles of coax. That's enough to circle the Earth about 25 times! While coax cannot match fiber's raw capacity potential, its advantages in coverage, convenience and cost justify further investment. Still, despite coax's ubiquity and agility, enabling MSOs to upgrade their current infrastructures without respacing, cable operators are feeling competitive pressure from fiber-based competitors that are rolling out multigigabit symmetrical services over much of their footprint. Read the below blogs to better understand why MSOs are well positioned to remain the premier providers of broadband services to much of the world for years to come.
MSOs: Don't get Knocked off Course by the 'Fiber Frenzy
Thinking that FTTH providers have MSOs on the rope? Not so fast, says ATX CTO Jay Lee, in the latest blog from ATX Networks.
Learn More
Debunking the Fiber is Faster than Coax Myth
Think information travels faster in fiber than in coax? Think again.
Learn More
2050 Project: The Survey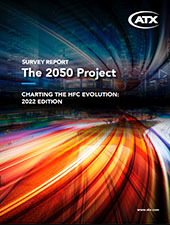 On a mission to capture first-hand knowledge of cable operators' plans for evolving their HFC networks, ATX Networks launched the first 2050 Project Survey in 2021. Findings from the latest version of the survey were release in the first half of 2022. Those results, which capture the current attitudes of cable industry professionals about the adoption of DOCSIS 4.0, spectrum splits, frequency upgrades, competitive concerns and more, are available here. Nothing beats knowing what your peers are planning and the 2050 Project Survey Report is the industry's only source for tapping into the long-term technology adoption strategies of cable operators across the globe.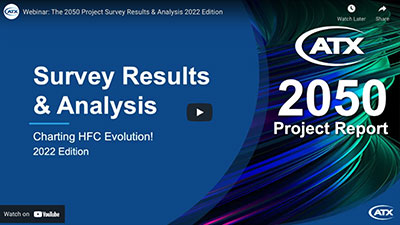 Watch a replay of the 2022 Edition of 2050 Project Survey, originally webcast in April 2022. This 55-minute video unveils the survey's top findings, how they compare to the previous year's insights and analysis from ATX outside plant experts Jay Lee, Brad Nikkari and Mike Whitley.

DOWNLOAD 2022 SURVEY REPORT DOWNLOAD 2022 WEBINAR REPLAY
Review Results of ATX's Third-Annual HFC Evolution Survey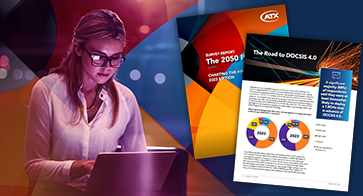 The ATX 2050 Project is now in its third year of uncovering industry insights on the HFC evolution. The 2023 Edition of the 2050 Project Survey Report, like the prior surveys from 2021 and 2022, provides MSOs with a moment-in-time snapshot of the attitudes and opinions of HFC network operators of all sizes as they chart the course of their transition to an all-fiber future.
Bandwidth: The Insatiable Quest
It is said that you can never be too thin or have too much money. An axiom that might be more relevant to MSOs is the truism that you can never have too much bandwidth. The high-speed broadband pipe, regardless of how broad, is one that is destined to fill up. Technologists can only speculate about how much bandwidth will be required to deliver the Matrix-like communications environments that futurists are predicting over the next several decades, or the capacity needed to support the total transition of major industries, such as medicine and education, to the digital realm. Peruse the below collateral for a more detailed look at what a not-to-distant communications future might look like.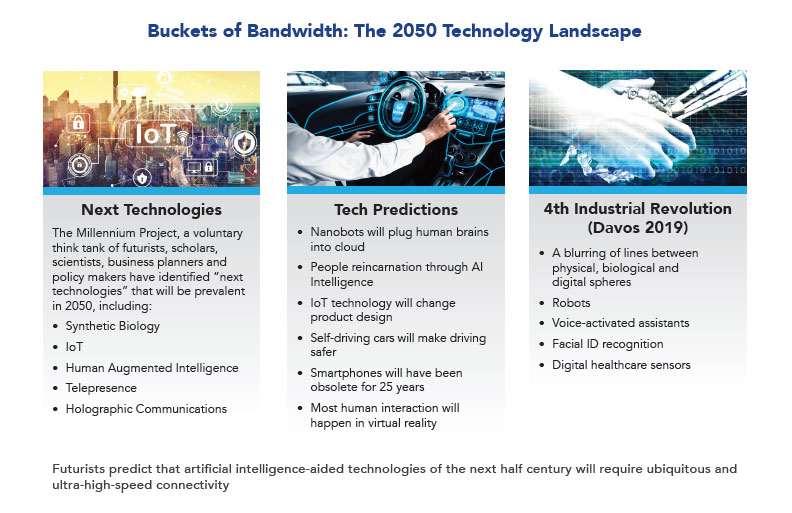 Hybrid Fiber-Coax: The Next 30 Years
Given future bandwidth demands, MSOs have already charted out a path for boasting the speed of both the upstream and downstream channels of the HFC network to nearly 10Gbps. The CableLabs 10G Initiative, introduced in 2019, was already largely validated in a speed test conducted by Charter Communications at the end of April 2022. A prototype network, featuring 2GHz taps from ATX Networks, recorded downstream speeds of 8.9Gbps. Read the blog at the end of this section to relive and celebrate this monumental milestone.
An open question that likely won't be answered for a decade or more is What happens after 10G? The current version of DOCSIS specifications, DOCSIS 4.0, call for extending the frequency of the existing HFC network to 1.8GHz, which will support download speeds of 10Gbps and upload rates of roughly 6Gbps. Whether cable operators cap their HFC networks at 1.8GHz before moving to all-fiber or extend their infrastructures to 3GHz or higher is dependent on several factors, outlined in the below blog, including costs, competitive threats and customer demand.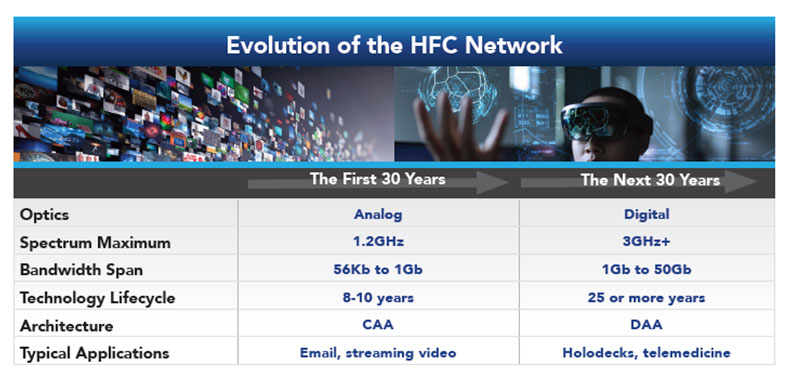 Why cable operators are in good hands with Docsis
Learn More
Ready-Set-Evolve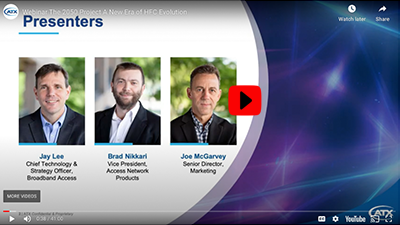 Even though the mid-century mark is almost 30 years away, MSOs can immediately start building out their next-gen HFC networks. Before you break ground, though, why not do a little prep work? For a complete rundown of what you'll need to get your 2050 Project off the ground, watch the webinar The 2050 Project: A New Era of Outside Plant Evolution. It's an A-to-Z exploration of what MSOs should be thinking about, in terms of products, roadmaps and best practices, as they begin to plot out the futures of their HFC plants.
Agile Innovation
If you're constructing a network today that will still be relevant in 2050, you better start with building blocks that are adaptable to incremental increases in spectrum and that can be upgraded with a minimal number of truck rolls. ATX's GigaXtend™ family of next-gen outside plant equipment is built for the long haul. The most agile outside plant portfolio on the market, GigaXtend is designed to evolve with market demand and reduce respacing to a minimum.
Accept No Substitutes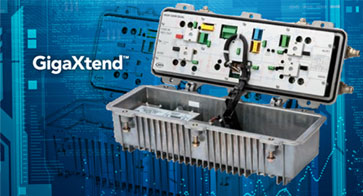 Knockoff versions of authentic products are everywhere, and it's always wise to be wary of sales pitches that start off with "Pssst." ATX entered a licensing agreement with Cisco® in early 2020 and remains the only maker of authorized GainMaker®-compatible amplifiers. Read the blog to better understand why you should accept no substitutes when it comes to imitation GainMaker-compatible amplifiers.