Blog
April 22, 2020
Start Building the HFC Network of the Future – Today
By Joe McGarvey, Senior Director, Marketing |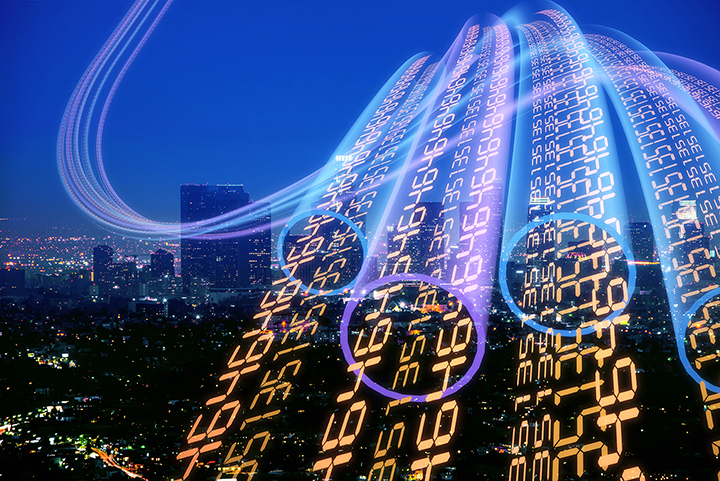 Futurists, looking ahead to the technology landscape of the year 2050, envision a communications environment that looks like something out of a science-fiction movie. Think holodecks and other deeply immersive experiences that blur the boundaries between humans and machines.
Nobody, of course, can predict with any accuracy what the world will look like 30 years from now. What we can count on, though, is that the communications infrastructure of the future will need to be highly responsive, incredibly fast and seamlessly interconnected. Up until recently, MSOs seemed convinced that to reach those requirements their 2050 networks would need to look significantly different than the ones they rely on today, with the chief difference being the displacement of coax with fiber.
That might still be the case. But the breaking news is that MSOs now have a path to their all-fiber futures that will allow them to leverage their existing HFC networks much longer than they thought possible just a year or two ago. It turns out that the HFC network, which has been 30 years in the making, should be good for another 30.
Introducing the 2050 Project
"The 2050 Project is a strategic vision and technology game plan designed to assist MSOs with the long-term evolution of their existing HFC networks."
The 2050 Project is a strategic vision and technology game plan designed to assist MSOs with the long-term evolution of their existing HFC networks. It's about enabling cable operators to double the longevity of the HFC networks without losing their position as premier providers of broadband connectivity while they gradually build out their all-fiber networks. A 30-year roadmap, the 2050 Project provides MSOs with a formula for extending their HFC networks deep into the future in the most non-disruptive and cost-effective manner possible.
But the biggest factor driving interest in expanding the bandwidth capacity of HFC networks to 25Gbps or higher, as always, is economics. MSOs, as mentioned above, have invested what amounts to the annual GDP of a mid-size country into their existing outside plants. It's going to take billions more, they are now discovering, just to deliver fiber deeper into their coaxial networks, let alone all the way to the premises.
The potential of boosting the bandwidth of HFC networks to 25-30Gbps or even higher by increasing spectrum ranges to 3GHz is attracting MSOs' interests of late because it means continuing to leverage their existing investment for the foreseeable future. Upgrading all actives and passives in the HFC network – and at the customer premises— is certainly not an inexpensive action, and one that would need to eventually be undertaken. But compared to swapping out the miles of installed coax for fiber that FTTX requires? It's a bargain.
Additional benefits of the 2050 Project include:
Extending technology lifecycles from 8-10 years to 25 and longer
Enabling the continued use of familiar and time-tested technologies and architectures
Providing a gradual and more affordable transition to an all-fiber network
Adding new intelligence and openness to the outside plant
Dramatically reducing capital and operational costs
Timing is Everything
The resurgence of interest in extending the lifespan of the outside plant is a recent occurrence. Just a year or two ago, some cable operators were not looking beyond 1.2GHz. The sudden change in strategy caught many technology suppliers by surprise, contributing to a pause in the development of higher spectrum actives and passives. But a not-so-funny thing happened on the way to pricing out the costs and overcoming the constraints of an aggressive replacement of large portions of the coax plant with fiber. Coming down with a bad case of sticker shock, MSOs turned their attentions again to the prospect of extending the spectrum of the HFC network, which was initiated late last year with the introduction of DOCSIS® 4.0. The new specification also supports the Full Duplex DOCSIS (FDX) technology option.
That shouldn't come as a big surprise. MSOs have plenty of reasons to leverage their HFC networks for as long as possible. For starters, the financial investment is tremendous, adding up to hundreds of billions in infrastructure costs since the first optical nodes were installed in the early 1990s. But an even better way to measure the immensity of the outside plant might be in miles, say 700,000. That audacious amount of coax cable, enough to wrap around the earth 25 times, represents the inventory of only a single MSO!
The sheer size of the current outside plant alone seems sufficient justification for further investment. So why were MSOs pushing an aggressive plan to replace it with fiber? A major reason was uncertainty around the suitability of all that coax, some decades old, to handle future bandwidth requirements. If much of the existing coax plant needed to be ripped out, the reasoning goes, it only made sense to replace it with glass. But it turns out that fears about the future fitness of the existing plant were unfounded, and recently put to rest by under-reported extended spectrum testing conducted last summer — and explored in this recent blog.
More to Come
Over the next few months, ATX will be revealing additional details about the 2050 Project, including a supporting solution portfolio designed to provide MSOs with the ability to begin installing active and passive technology into their outside plants today that delivers the agility to support future spectrum increases to 3GHz and higher.
Reaching the goals of the 2050 Project will require MSOs to eventually replace the current active and passive components in their networks, including nodes, amplifiers and taps, most of which max out at 1.2GHz. That's neither a quick nor inexpensive proposition. And that's why it's imperative that MSOs adopt a long-term plan and implementation strategy that minimizes regrettable spend and ensures that the investments you make today will see you all the way through to 2050.
Nobody can predict what the future will look like. But that shouldn't stop you from doing everything you can today to put together a rock-solid game plan for the next 30 years.