Blog
October 5, 2021
Welcome to the Golden Age of Broadband
By Dan Whalen, ATX President & CEO |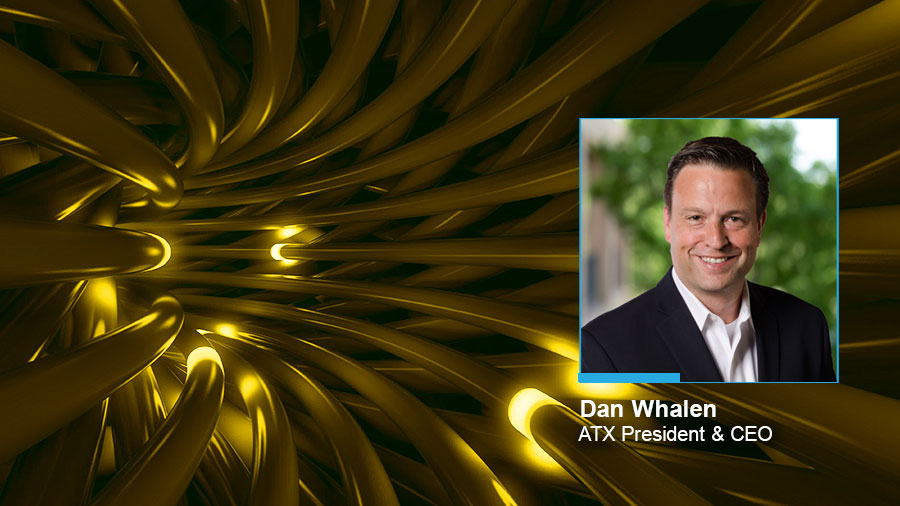 The last 18 months have been absolutely insane with the COVID and supply pandemics, and it had been a while since I came up for air. And a thought dawned on me: With everything going on, have we overlooked how much the broadband industry has impacted the day-to-day lives of millions, if not billions, of humans. In other words, are we now living in the Golden Age of Broadband?
I believe that we are, or soon will be – and here's why.
Pinpointing the origin of a new era or epoch is nearly impossible while it's happening. It usually takes a few years or even decades to affix a start date to a notable stretch of time. But I'm betting that just a few years from now most of us will be pointing to circa 2020 as the initial phase of broadband's emergence as the most critical utility for human existence.
That's not to say that up until now high-speed Internet wasn't serious business or vital to human communications and commerce. All of that is true, of course, and underlined by the Wall Street dominance of dozens of Internet-related enterprises, including some of the largest businesses in the world. But for many of its users, the Internet's most important attributes are how fast and at what resolution you can download static or moving images. Netflix, for many, if not most, is the Internet's deadliest killer app, followed closely by Amazon.
Broadband Rising
But a funny thing happened while the world was huddled in place for much of the past year. The economic importance of broadband, its ability to enable many businesses to sustain operations despite empty offices, its ability to connect people to everything they want wherever they are, and effectively keep the consumer engine running, became crystal clear. Likewise, it highlighted how limited access to high-speed data connections can disadvantage large swaths of the population. People, communities and governments needed to act.
Pandemic-related workplace disruptions cast a spotlight on the way digital disparity is already limiting opportunity, not just in employment, but also in education, and how that inequity will only expand as more and more essential services, such as healthcare, become further digitized and require faster and faster connections.
The record will show that 2020 was the year that shrinking the Digital Divide started receiving the attention — and the funding — it deserved. The early days of the Golden Era of Broadband will be marked, I believe, by the influx of billions in public spending for a massive infrastructure buildout, with at least one national government drawing parallels to efforts in the 1930s to advance the human condition by mandating that all households have access to electricity.
Resilience & Agility
I don't know how all of this will turn out. We're in the early days of this zeitgeist. But I'm certain that I will look back on these years with pride, recalling the role the cable industry played in adapting to usage surges — especially in the upstream — sometimes accommodating a year's worth of traffic growth in a single month. I will long marvel at the resiliency and agility of the HFC network, which started its own origin story roughly 30 years ago and now winds its way through thousands of neighborhoods, covering millions of miles.
The adoption of DOCSIS 4.0, which redefines the spectrum MSOs will utilize, will drive the next phase in the evolution of the HFC network.
I will also swell with pride when I think about the role ATX is playing in these beginning days of broadband's ascendency. The HFC network's greatest strength is its ability to meet constantly increasing usage demands with steady improvements in speed, bandwidth, reliability and latency — most often through technology upgrades that don't require cable operators to tear up their networks or overhaul their infrastructures.
The adoption of DOCSIS 4.0, which redefines the spectrum MSOs will utilize, will drive the next phase in the evolution of the HFC network. ATX is on the forefront of efforts to ensure that cable operators are able to expand their services with as little disruption as possible. We're hard at work with customers and component suppliers to tackle the technology challenges associated with creating an HFC network that will allow cable operators to advance the speed and utility of their networks primarily through drop-in replacement, rather than costly respacing or re-engineering of their outside plants.
ATX will be sharing some of the progress we're making on that front at the upcoming SCTE Cable-Tec Expo, which is going to be an all-virtual event again this year. ATX CTO Jay Lee and I will be teaming up with Tee Harton, Sr. Director OSP Engineering to present Navigating the DOCSIS 4.0 Journey, a behind-the-scenes look at how we're collaborating with customers and partners to make sure the road to DOCSIS 4.0 is a smooth one.
Exciting Times
It's exciting and satisfying work, made all the more so by knowing that we're contributing to something monumental and meaningful to millions of lives. I joined ATX at the end of 2020, essentially synchronizing the next phase of my career with the start of a new and exciting era of digital communications.
Like every other company, ATX is adapting daily to the new normal, evolving policies and procedures that enable employees to accomplish their jobs and grow their careers regardless of where they reside, all while maintaining the healthy work-life balance that is a staple of our corporate culture.
These are exciting times for ATX, and the overall broadband industry. They should be. How often do you get to witness and contribute to the beginning stages of what is likely to be a monumental advancement in human progress?
Welcome to the Golden Age of Broadband.