Press Release
October 4, 2023
ATX Introduces the DOCSIS 4.0-Capable Successor to Cisco GS7000 Node Platform
New GigaXtend GS7 1.8GHz Node provides future development path for widely deployed Cisco node platform and integration with third-party DAA and PON technology modules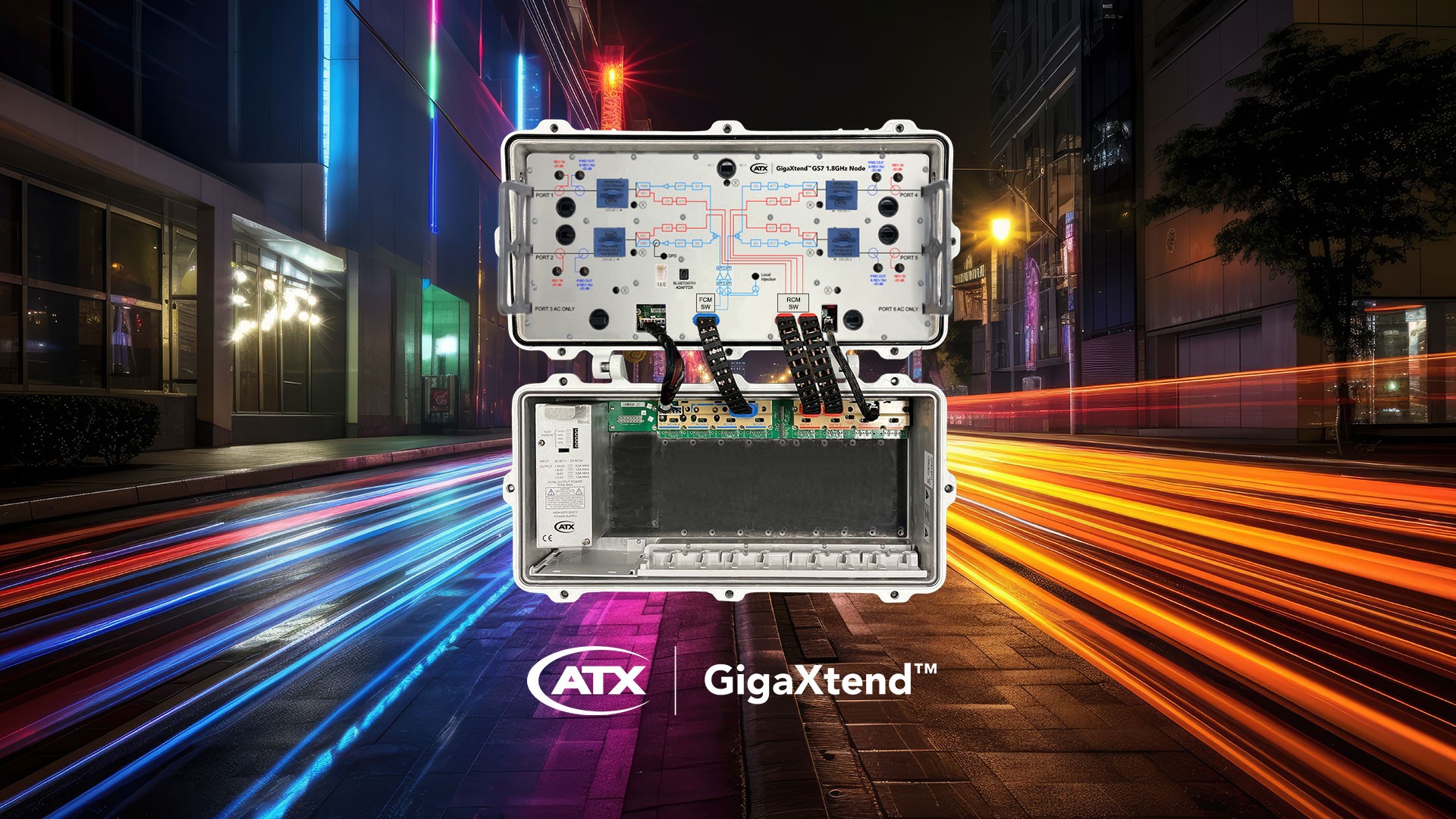 SAN DIEGO, October 4, 2023 – ATX Networks, a global leader in broadband access and media distribution solutions, will introduce at SCTE Cable-Tec Expo 2023 the GigaXtend™ GS7 1.8GHz Node, a DOCSIS 4.0-compatible HFC node based on technology licensed from Cisco at the end of last year. The CableLabs®-sponsored technology exhibition and conference will be held in Denver on October 16-19.
The new platform, which is based on licensed original manufacturer design information, provides a seamless upgrade path for existing GS7000s and validates ATX's commitment to assist MSOs in extending the utility of previous HFC investments and evolving their HFC network in the most cost-efficient and disruption-free manner possible.
"Cable-Tec Expo attendees will be the first to get a glimpse of ATX's 1.8GHz node platform, which is the only authorized successor to the renowned Cisco GS7000 platform," said Mike Whitley, VP of Access Network Products at ATX. "We fortified the GigaXtend GS7 with new levels of intelligence and the ability for MSOs to transition to 1.8GHz through simple and inexpensive drop-in upgrades, all while retaining the technician-friendly features of the GS7000."
The GigaXtend GS7 enables MSOs to upgrade the nodes in their outside plants largely through module swap-outs, without the need to replace existing housings or lids. Unlike the GS7000, many legacy HFC nodes were not designed to support 1.8GHz, requiring MSOs to make costly and involved upgrades, or replace the entire node station.
The GigaXtend GS7 enables MSOs to upgrade the nodes in their outside plants largely through module swap-outs, without the need to replace existing housings or lids.
In addition, ATX is designing the GigaXtend GS7 with open interfaces that will enable the node to support third-party technologies, including DAA RPD and PON modules. By opening up the platform to interoperate with equipment from third parties, ATX is providing MSOs with the ability to support a best-of-breed technology approach that enables cable operators to expand the functionality of the platform throughout the node's lifecycle.
ATX is currently working closely with Harmonic and Vecima to ensure that the GigaXtend GS7 will support each company's respective DAA modules, giving MSOs multiple technology adoptions for distributing functionality to the edges of their networks in support of delivering multigigabit services.
By extending the lifespan and evolution of the GS7000, ATX is providing MSOs with the ability to enhance their HFC networks to deliver multigigabit symmetrical services with minimal disruption of subscribers, without respacing their outside plants, retraining technicians or undergoing the complexities and expense of introducing a new component into the network.
The GigaXtend GS7 1.8GHz Node complements the company's DOCSIS-4.0-outside plant portfolio, composed of GigaXtend GMC 1.8GHz Amplifiers and GigaXtend XS 2GHz Taps and Passives. With the introduction of the GigaXtend GS7 in H1 2024, ATX will be unique in offering MSOs an end-to-end 1.8GHz-capable outside plant portfolio that seamlessly and cost-efficiently bridges past HFC investments to the future.
ATX's ability to extend the GS7000's legacy of reliability and innovation is backed by a deeply experienced research and development team that consists of former Scientific Atlanta and Cisco engineers, including several original designers of the GS7000 and GainMaker® Amplifier platform, which ATX licensed in 2020.
The amplification technology in the GigaXtend GS7 will leverage the design work completed for the GigaXtend 1.8GHz amplifier family. MSOs will be able to configure ATX 1.8GHz amplifiers and nodes using the ATX GigaXtend Orchestrator, a recently developed software tool that streamlines set-up and configuration, as well as simplifies technician training by implementing electronic control through a simple graphical user interface.
For more information, please visit www.atx.com.
About ATX Networks
ATX Networks is a global leader in broadband access and media distribution solutions. ATX's market-leading and award-winning solutions are based on Agile Innovation design principles, enabling communications service providers to futureproof and evolve their networks in lockstep with market demand. ATX partners with the world's most innovative cable, satellite, fixed telecom, wireless and media broadcast service providers to improve people's lives by enabling affordable and reliable broadband connectivity and media content for everyone, everywhere. For further information, visit ATX at www.atx.com, and follow us on LinkedIn.
About Harmonic
Harmonic (NASDAQ: HLIT), the worldwide leader in virtualized cable access and video delivery solutions, enables media companies and service providers to deliver ultra-high-quality video streaming and broadcast services to consumers globally. The company revolutionized cable access networking via the industry's first virtualized cable access solution, enabling cable operators to more flexibly deploy gigabit internet service to consumers' homes and mobile devices. Whether simplifying OTT video delivery via innovative cloud and software platforms, or powering the delivery of gigabit internet cable services, Harmonic is changing the way media companies and service providers monetize live and on-demand content on every screen. More information is available at www.harmonicinc.com.
About Vecima Networks
Vecima Networks Inc. (TSX: VCM) is leading the global evolution to the multi-gigabit, content-rich networks of the future. Our talented people deliver future-ready software, services, and integrated platforms that power broadband and video streaming networks, monitor and manage transportation, and transform experiences in homes, businesses, and everywhere people connect. We help our customers evolve their networks with cloud-based solutions that deliver ground-breaking speed, superior video quality, and exciting new services to their subscribers. There is power in connectivity – it enables people, businesses, and communities to grow and thrive. Learn more at vecima.com.