Press Release
June 26, 2023
ATX Showcases Expanded Edge Compute Capabilities of Visium MD Platform at HITEC 2023
Hospitality 5G private network powered by DISH Business among applications to be demonstrated at hospitality industry tech event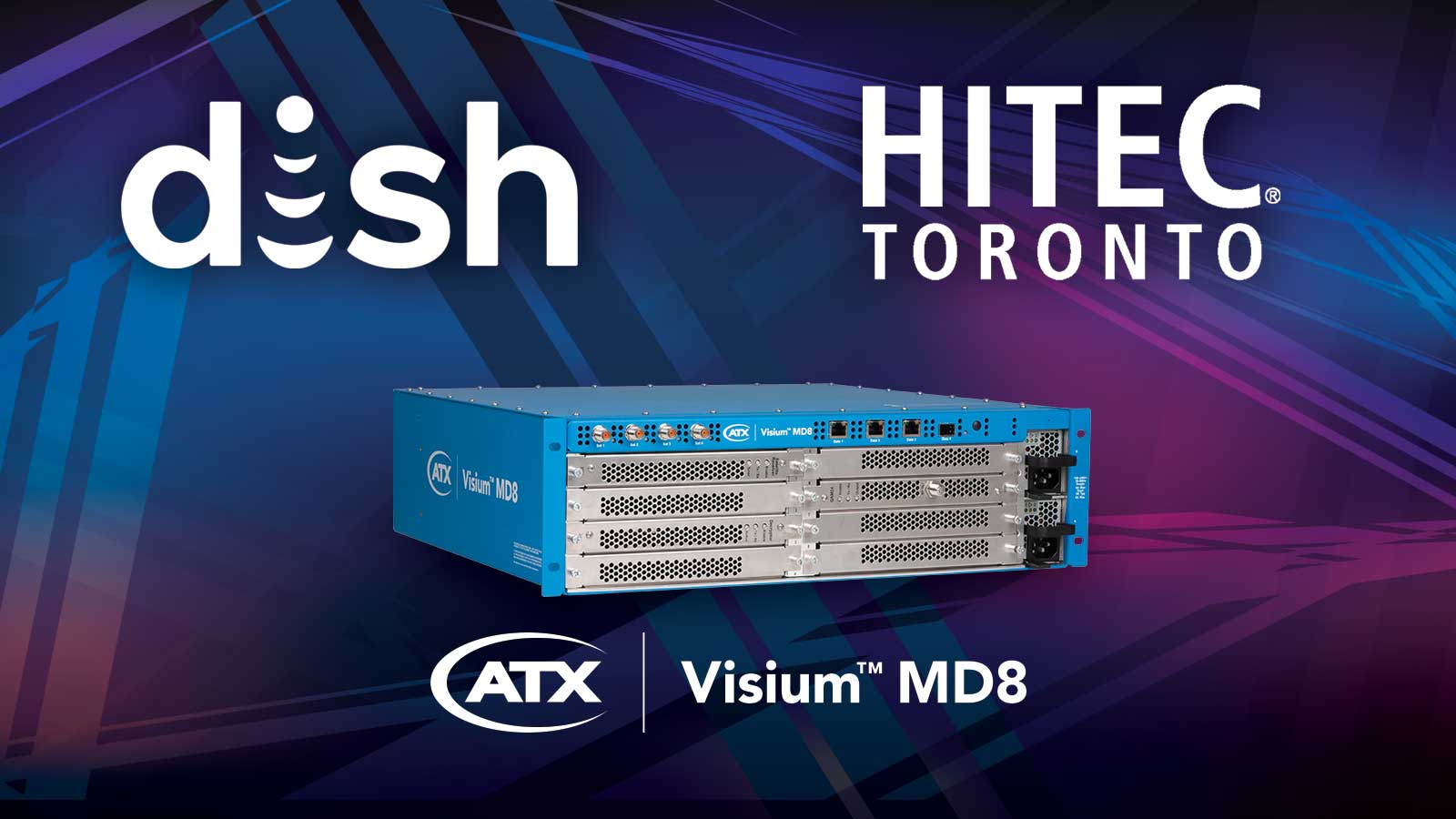 SAN DIEGO, June 26, 2023 – ATX Networks, a global leader in broadband access and media distribution solutions, will demonstrate multiple uses and applications for the Visium™ MD edge compute platform at HITEC, the hospitality industry's annual exhibition and conference that takes place this week in Toronto from June June 26-29. Adding new functionality to the Visium MD, a market-leading commercial video services gateway, expands the number and range of services that communications service providers can offer their business customers.
The SMARTBOX® is based on ATX's Visium MD8 platform and offers the industry's best in-room entertainment experience.
DISH Business (booth 901) will demonstrate new use cases for the Visium MD, showcasing its SMARTBOX2® platform, which supports various applications, including a 5G mobile core, hospitality property management system, network routing, and virtual firewall management. The SMARTBOX® is based on ATX's Visium MD8 platform and offers the industry's best in-room entertainment experience. At HITEC, attendees can witness video delivery over DISH's Citizens Broadband Radio Service (CBRS) spectrum using SMARTBOX® technology, with seamless connectivity to a private 5G network via compatible eSIM enabled mobile devices and additional enterprise features enabled by DISH's advanced network technology.
"Over the past several years DISH Business has deployed tens of thousands of SMARTBOX® systems in hotels and commercial businesses, largely for the distribution of our video service," said Amir Ahmed, Executive Vice President, DISH TV. "Leveraging these installations to host critical 5G technology and other connectivity services essential to the hospitality industry meets the changing needs of both the hotelier and guest experience, as well as validates the edge computing capabilities of this versatile platform."
The Visium MD is an ideal edge compute platform due to its field-proven security capabilities and its ability to function in an unsecured environment. The Visium Edge Compute Blade, a processing blade that can be configured to meet specific application requirements, enables operators or system integrators to manage, monitor and control applications deployed on the platform. The Edge Compute Blade's secure, trusted and containerized environment ensures reliability and flexibility of functionality.
Deploying reliable, cost-efficient software services to counter the growing technological complexity of the hospitality industry has never been more important. ATX is continuing its tradition of consolidating technology into a single multipurpose appliance through the edge compute capabilities of its Visium platform, which provides localized compute power to run critical applications that currently require dedicated hardware.  
ATX will also demonstrate edge compute functionalities of the Visium MD platform in its HITEC booth (1616). ATX will showcase an MD8 hosting an instance of the Visium Manager element management system, incoming streaming media and a media player/origination server on the platform's Edge Compute Blade.
"The multi-function attributes of the Visium MD platform enable hotels and other commercial venues to free up real estate in their operation centers by moving applications that now require racks of equipment onto a single, compact platform," said Andrew Isherwood, General Manager & CTO, Media Distribution at ATX. "The MD8, not just a video platform, is quickly becoming a one-stop edge compute platform for the hospitality industry and other commercial businesses."
Other demonstrations at the ATX booth will include the company's Visium Set-Back Box, a compact but powerful security adapter and Interactive Program Guide, and DVIS™ II, the IP-capable version of the company's market-leading channel insertion platform. All solutions offer unprecedented deployment agility, enabling service providers to deliver high-performance video and other services to commercial businesses regardless of transport medium or technology.  
For more information about ATX's media distribution solutions for the hospitality industry and other non-residential venues, please visit www.atx.com.
About ATX Networks
ATX Networks is a global leader in broadband access and media distribution solutions. ATX's market-leading and award-winning solutions are based on Agile Innovation design principles, enabling communications service providers to futureproof and evolve their networks in lockstep with market demand. ATX partners with the world's most innovative cable, satellite, fixed telecom, wireless and media broadcast service providers to improve people's lives by enabling affordable and reliable broadband connectivity and media content for everyone, everywhere. For further information, visit ATX at www.atx.com, and follow us on Twitter @ATXNetworksCorp.