Press Release
October 31, 2023
New API Extends the Utility of ATX Visium SBB Security Adapter in Enterprise Environments
Software enhancement enables ubiquitous and easy integration with third-party centralized management and control systems often used in public venues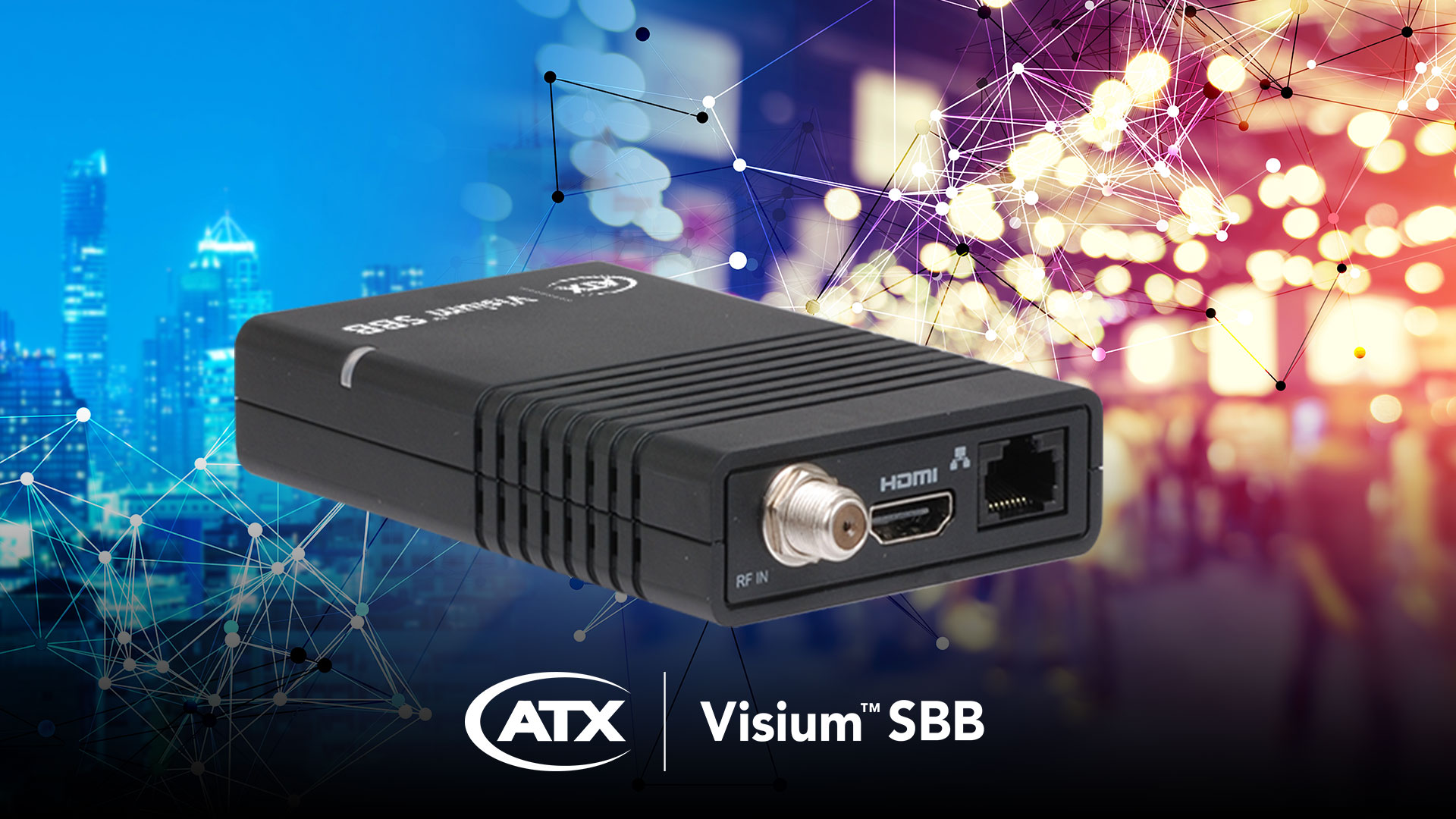 SAN DIEGO, October 31, 2023 – ATX Networks, a global leader in broadband access and media distribution solutions, recently upgraded the Visium™ Set-Back Box (SBB), the company's pocket-sized security adapter, with a generic Application Programming Interface (API) that enables the device to be controlled by third-party enterprise-grade management systems. The API allows businesses with screens in public areas to control electronic equipment and audio/visual solutions from a central location.
The new API enables any third-party centralized management system for digital signage, security systems and other electronically managed equipment to access functions on the Visium SBB that are normally activated through the product's remote control, such as on/off and channel selection, through IP-based commands.
"It's not easy or practical for casinos, airports and similar public venues to control televisions that are widely distributed or not conveniently accessible with a remote-control device," said Linas Underys, VP of Products and Business Development for Gateways at ATX. "Our new IP-based API gives these businesses the flexibility to integrate control of the Visium SBBs into the overarching management system they currently use to control televisions, digital signage, access to conference rooms, security systems and dozens of other functions."
The generic API enables systems integrators and others to reduce management complexity by easily integrating the SBB into centralized control systems using a standard JavaScript Object Notation (JSON) programming code.
The generic API enables systems integrators and others to reduce management complexity by easily integrating the SBB into centralized control systems using a standard JavaScript Object Notation (JSON) programming code. API support is available for already-deployed Visium SBBs through a firmware upgrade.
The Visium SBB is a competitively priced Pro:Idiom®-compatible security adapter that brings world-class encryption and an Interactive Program Guide (IPG) to hospitality sites not equipped with commercial televisions. It plugs a gap in the commercial video services market by enabling hotels, hospitals and other non-residential environments to significantly improve the video experiences they deliver to guests and other end users without requiring the purchase of new and expensive televisions with built-in encryption and data compression capabilities.
The addition of the API extends the applicability of the Visium SBB to additional enterprise environments, specifically commercial locations where controlling televisions through a remote control is unmanageable or impractical.
For more information please visit www.atx.com.
About ATX Networks
ATX Networks is a global leader in broadband access and media distribution solutions. ATX's market-leading and award-winning solutions are based on Agile Innovation design principles, enabling communications service providers to futureproof and evolve their networks in lockstep with market demand. ATX partners with the world's most innovative cable, satellite, fixed telecom, wireless and media broadcast service providers to improve people's lives by enabling affordable and reliable broadband connectivity and media content for everyone, everywhere. For further information, visit ATX at www.atx.com, and follow us on LinkedIn.