Resources
April 28, 2023
The 2050 Project Survey Results & Analysis: 2023 Edition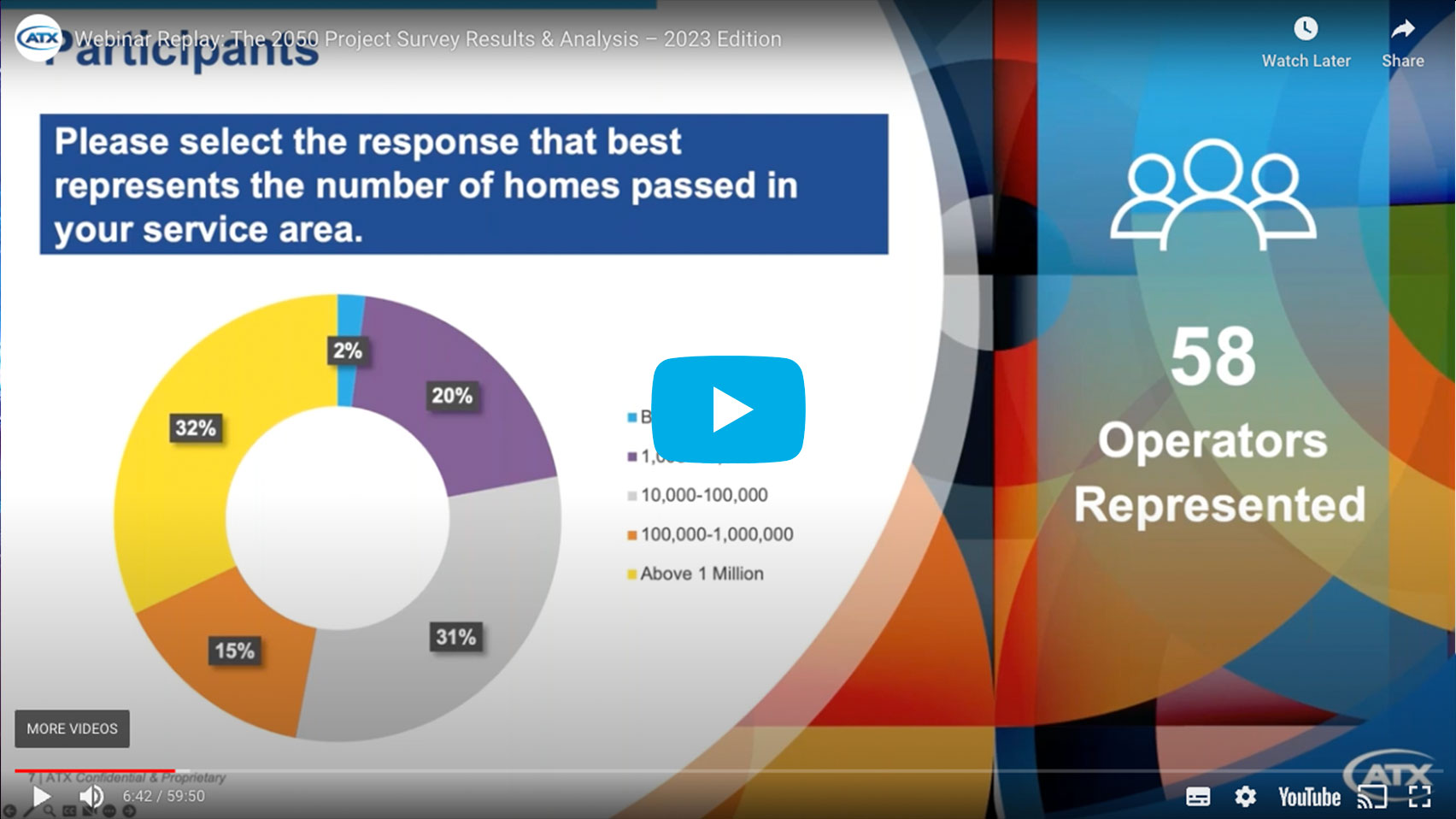 A little more than 30 years ago, MSOs installed the first fiber nodes in the cable access plant, marking the launch of the Hybrid Fiber-Coax (HFC) network, which would evolve over the next three decades into what is currently the world's most robust, resilient and agile infrastructure for the delivery of broadband services.
In 2020, ATX Networks introduced the 2050 Project, an HFC-evolution initiative that celebrates the cable access network and charts its gradual transition to an all-fiber network. Now in its third year, the 2050 Project Survey is primary research that tracks the HFC evolution by surveying cable professionals about their current plans for upgrading their networks, fending off competition and other issues impacting their ability to maintain market leadership in broadband service delivery.
ATX reveals the results of the 2023 Edition of our HFC evolution survey in this webcast that features in-depth analysis from ATX outside plant experts.
During this webinar you will:
Be among the first to see how cable operators' attitudes and perceptions about the evolution of their HFC networks have changed over the past few years
Absorb expert analysis of what survey results might say about the current state of the HFC evolution and how it could potentially progress over the next few decades
Gain insight into what your peers are contemplating about the lifespan of their HFC networks and how far they plan to take future frequency upgrades
Delve into issues related to the timing of DOCSIS 4.0 adoption, spectrum allocation, network intelligence and DAA rollouts
Watch Webinar


Opt-in to receive updates from ATX and get instant access to this resource:
Your Presenters
Jay Lee
CTO, ATX Networks
Mike Whitley
VP, Access Networking, ATX Networks
Joe McGarvey
Sr. Director, Marketing, ATX Networks
Get the Report
Get the deep dive into the results and analysis of the 2023 Edition of the annual HFC Evolution Survey.
Inside the 2050 Project
Visit the 2050 Project portal to sample white papers, blogs, videos and other collateral about ATX's long-term HFC evolution