Resources
April 6, 2022
The 2050 Project Survey Report 2022 Edition-Results & Analysis of HFC Evolution Survey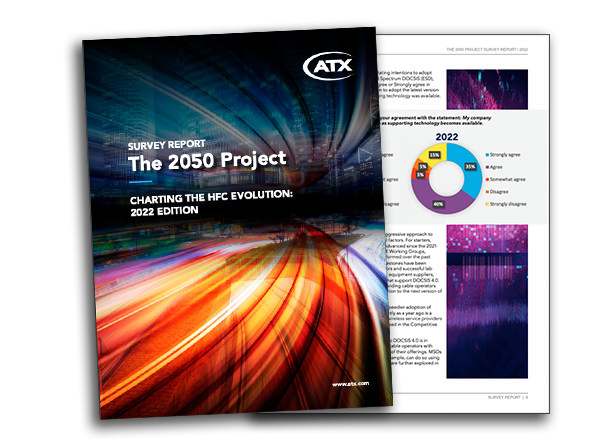 ATX launched the 2050 Project HFC evolution survey in 2021 to provide insight into current cable operator thinking about how costs, competitive factors and other variables are impacting the long-term evolution of outside plants. A major objective of the survey is to deliver cable industry professionals an invaluable view of the network transformation plans of their peers. The survey, now in its second year, seeks to uncover cable operators' most recent attitudes toward the adoption of new technologies — such as DOCSIS® 4.0 — competitive concerns, the future allocation of available spectrum on coax cable and other issues that could impact the overall longevity of their HFC networks.
The 2022 Edition of the 2050 Project Survey Report, like the inaugural survey, provides a moment-in-time snapshot of the attitudes and opinions of HFC network operators of all sizes as they chart the course of their transition to an all-fiber future. The report includes the opinions of nearly 100 cable professionals, representing 59 companies, that were captured earlier this year. Download the report to discover cable operators' latest plans for evolving their HFC networks and how those plans have changed over the past year.
Download Report


Opt-in to receive updates from ATX and get instant access to this resource:
Key Findings
More than 30% of survey takers believe that 1.8GHz will be the top frequency of their HFC networks, an increase of 11% from the previous year.
Three-quarters of respondents representing larger service providers say they Agree (40%) or Strongly agree (35%) with the statement that they will migrate to DOCSIS 4.0 as soon as supporting equipment is available.
Cable operators with more than 1 million subscribers favor mid-split architecture upgrades over high-split upgrades, 42% to 37%, respectively.
MSOs overwhelming (81%) favor DOCSIS 4.0 deployments that support High- or Medium-gain output HFC amp architectures and limited deployments of booster amps
Only 7% of survey takers believe they will still be operating HFC networks more than 20 years into the future, a decline of 24% from the 2021 survey.