Video Processing & Distribution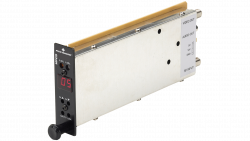 MPCD
Agile A/V Mini-Demodulator
Features
Specs & Order Info
Other Documents
125 Channel frequency range 54~806MHz (CATV 2~13, A1~A5, A~ZZZ, 89~125, UHF 14~69)

Agile microprocessor control with push-button channel selection provides ease of installation, configuration and servicing

SAW filtered for precise adjacent channel rejection

>60dB Signal to noise ratio for crisp, sharp picture

Digital display provides quick channel identification

Non-volatile memory ensures channel programming remains after power loss

Single-slot design allows up to 12 or 16 units in Pico Macom's MPC-12, MPC-12R and MPC-16PS/CS chassis

Fully compatible with most other manufacturers' "mini-mod" chassis
Specifications | Ordering Information
Specifications
Input Frequency Range
54~806MHz
Tuning
Agile
RF Input Level
15dBmV
Noise Figure
5dB (VHF) / 7dB (UHF)
Video Detection Type
Envelope
Video Frequency Response
±1.5dB
Video Signal to Noise
60dB
Audio Detection Type
Quadrature FM
Audio Frequency Response
50~15,000Hz
RF Input Connection
75Ω F-Female
Video Output Connection
75Ω F-Female
Audio Output Connection
600Ω RCA-Female
Voltage Input
+5, +12VDC
Dimensions
2.07" (L) x 8" (D) x 3.45" (H)
Weight
0.7 lbs.
This data sheet contains branding from Pico Digital, a recent ATX subsidiary.
Stay Connected
Get the latest info on all of ATX's solutions, new products and events.