Video Processing & Distribution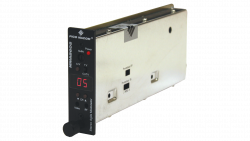 MMA860S
Universal Chassis Stereo Mini Agile Modulator
Features
Specs & Order Info
Other Documents
Compatible with most manufacturers mini-modulator chassis

135-Channel range 54-860MHz (CATV 2-135)

>45dBmV min adjustable output for optimum carrier-to-noise performance

State-of-the-art digital phase-locked-loop (PLL) design guarantees precise frequency locking for solid drift-free operation

Microprocessor control enables quick digital push-button channel selection for ease of installation, configuration, and improved system uptime

SAW (surface acoustic wave) filtered for superior adjacent channel performance enables drop-in channel expansion

In-band carrier-to-noise ratio >65dB ensures superior picture quality

Single-slot design allows up to 12 or 16 units in Pico Macom's MPC-12, MPC-12C, MPC-12R and MPC-16PS/CS chassis

Automatic selection of aeronautical offsets (12.5kHz, 25kHz) for trouble-free configuration

Front panel access to controls enables easy setup

Pre-emphasis defeat switch to enable stereo operation (MMA860S)

Push button selectable A/V ratio (13 or 15 dB) (MMA860S)
Specifications | Ordering Information
Specifications
Output Frequency Range
54 to 860MHz
RF Output Level (min)
45 dBmV
Tuning
Agile
Carrier to Noise (in band)
60
Carrier to Noise (out of band)
66
Spurious Output
>55
Video Frequency Response
±1.2
Video Signal to Noise
56dB
Audio Input Type
MMA860S
L and R Stereo
Video input connection
MMA860S
75Ω RCA
MMA860S
Video Input Level at 87.5% Mod
1VPK-PK
Frequency Response
±1dB (50H to 10k)
Stereo Seperation
20dB
Signal to Noise (Stereo)
56dB
Audio Frequency Response
50 to 15000Hz
Audio Input Connection
10KΩ RCA-F Unbalanced
RF Output Connection
75Ω F-Female
Voltage Input
+5, +12VDC
Dimensions
1″ (W) x 3.5″ (H) x 7.5″ (D)
Weight
1 lb.
This data sheet contains branding from Pico Digital, a recent ATX subsidiary.
Stay Connected
Get the latest info on all of ATX's solutions, new products and events.