Blog
June 25, 2021
Cable Operators Weigh Upstream Bandwidth Expansion Options
By Joe McGarvey, Senior Director, Marketing |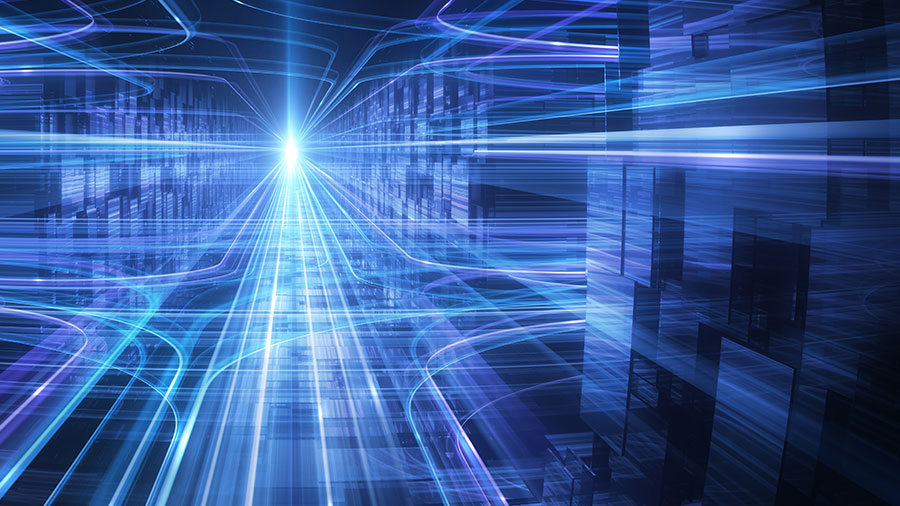 Surfing the Internet has long been a heavily asymmetrical activity, with end users receiving magnitudes more data than they send back toward the headend. But the disproportion between downstream and return-path traffic payloads is beginning to dissipate. Increases in the sophistication of online gaming, an uptick in the transfer and storage of large files to the cloud and, in particular, an explosion of video conferencing activities instigated by COVID-related Work From Home (WFH) policies, contributed in 2020 to what amounts to a surge in upstream traffic.
Cable operators were mostly successful in accommodating these recent traffic increases through an increase in node splits and other traditional bandwidth-expansion practices, such as increasing modulation density. But more aggressive tactics to free up additional upstream bandwidth, in the form of spectrum splits, are being predicted for 2021 and beyond as broadband providers enter a post-COVID climate where work-from-anywhere practices are likely to remain the norm.
These upgrades will not only make room for higher peak capacity rates, but also improve average rates, enabling operators to delay or even avoid some node-splitting activities.
Mid or High?
DOCSIS 3.1 split upgrades currently come in two viable flavors, mid and high, which move the upper reaches of the return path to 85MHz and 204MHz, respectively. Splits that take up even more of the spectrum normally allocated to downstream traffic, so-called uber-high-splits, will not be fashionable until additional spectrum is allocated, in alignment with DOCSIS® 4.0 adoption.
At the beginning of this year, ATX conducted the 2050 Project Survey, a moment-in-time measurement of the current attitudes and insights of cable professionals. The annual survey, described in this recent blog, is designed to provide cable operators with a year-to-year assessment of what their peers are thinking when it comes to their expectations about the impact of variables influencing the evolution of their network.
The 2021 edition of the survey attempts to capture operators' current plans to expand upstream capacity, including split preferences.
Which approach best describes your current plans to accommodate increases in upstream traffic on your DOCSIS 3.1 network?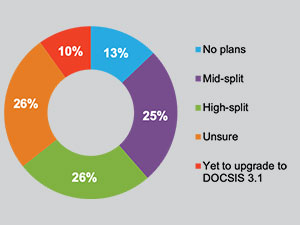 In nearly a three-way tie, three quarters of survey respondents evenly divided their choices between Mid-split, High-split and Unsure, a likely reflection of some of the trade-offs associated with how much spectrum is allocated to upstream traffic that operators are now weighing. Mid-splits, for example, are far easier to digest than high-splits, in terms of costs and complications. That's because high-splits pose disruptions in CPE equipment and leakage monitoring, as well as raising the potential need to replace active and passive components in the outside plant as part of related downstream spectrum increases.
Mid-splits, for example, are far easier to digest than high-splits, in terms of costs and complications.
High-split upgrades consume so much of the spectrum previously reserved for downstream traffic, operators are often required to compensate for the loss by extending downstream spectrum, which may result in the need to replace outside plant amps and passives. Another potential reason for the popularity of the Unsure response could be that some operators are contemplating coordinating a spectrum split with the deployment of DOCSIS 4.0, an event that most industry experts predict to be at least a couple of years away.
How High do you Go?
While leakage and other issues are largely unassociated with mid-split upgrades, mid-splits do not deliver the same speed and capacity as high-splits to the return path. Where mid-splits will clear enough spectrum to enable operators to offer billboard rates of roughly 100Mbps in the upstream channel, high-splits create a broad enough return path to accommodate speeds of roughly 1Gbps.
Some, if not all, of the motivation of cable operators to alter the actives in their outside plant to support high-splits is related to competitive pressures from FTTH providers, many of which are capable of offering 1Gbps symmetrical services. The competitive importance of 1Gbps symmetrical services, a topic of a future blog, and also touched upon in a recent blog from ATX CEO Dan Whalen, is covered extensively in the 2050 Project Survey Report, available here.
Just how high cable operators will need to go on the upstream portion of their networks to satisfy user demands, as well as fend off growing competitive threats, is an open question that is likely to keep cable operator engineers working overtime for months to come.