Resources
October 29, 2021
Secure and Enhance the In-Room Video Experience in Seconds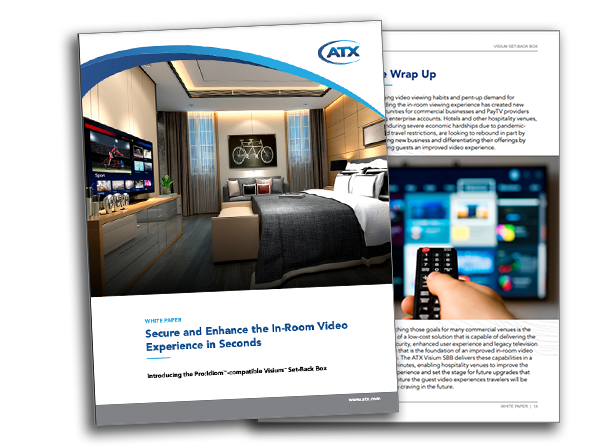 Introducing the Pro:Idiom-compatible Visium Set-Back Box
After a down year for the ages in 2020, the travel and leisure industry is on track for a Post-COVID rebound. One way for hotels and other hospitality venues to win back business is delivering an upgraded video experience capable of meeting their guests' newly elevated expectations.
This just-released white paper explores how a new Pro:Idiom™-compatible security adapter from ATX can offer enterprises an immediate and cost-efficient way to up the in-room video experience without the need to replace non-commercial-grade televisions.
A pocket-size powerhouse, the ATX Visium™ SBB, with built-in Interactive Program Guide (IPG), enables hospitality venues with older and non-commercial televisions to provide content security, an enhanced user experience and legacy TV adaptation, freeing businesses of the potential expense of replacing dozens or even hundreds of televisions, depending on the size of the business.
Download Report


Opt-in to receive updates from ATX and get instant access to this resource:
Key Findings
How COVID-19-related lockdowns have changed video consumption practice and how hospitality providers will need to react
What hotels and other commercial businesses can do to quickly and cost-efficiently enhance the in-room guest experience
How the ATX Visium Set-Back Box's multiple value propositions can enable enterprises to instantly upgrade their video services