The ATX Maintenance Mode Taps & Passives Replacement Model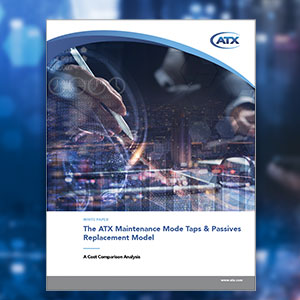 The ATX Maintenance Mode Taps & Passives
Replacement Model

A Cost Analysis Comparison
If DOCSIS® 4.0 Extended Spectrum is in your future — even your distant future — it makes sense to start deploying next-generation taps and passives capable of supporting a frequency of 1.8GHz in your network beginning today. That's the major finding of a recently conducted cost analysis study comparing two maintenance mode replacement models for outside plant passives.
According to The ATX Maintenance Mode Taps & Passives Replacement Model study, cable operators on average can knock off 3% of the total cost of upgrading their taps and passives to support DOCSIS 4.0 by replacing failed devices with next-gen devices starting today. The new report, a detailed analysis of a hypothetical MSO serving 10 million subscribers, concludes that cable operators can save money, as well as accelerate the upgrade of their outside plants, by moving immediately to 1.8GHz-capable taps and passives, such as ATX's GigaXtend™ XS Series of 2GHz hardline passives
A recently conducted webinar summarizing the report's findings is available here. In addition, ATX will work with cable operators of any size to produce a customized version of the analysis upon request and at no charge.