Blog
September 30, 2022
Top Five Takeaways from Cable-Tec Expo 2022
By Joe McGarvey, Senior Director, Marketing |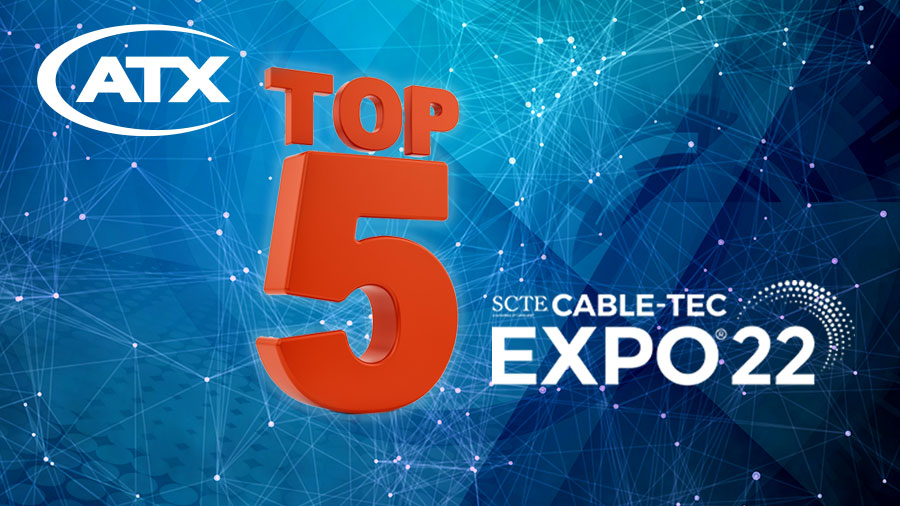 In addition to regrets over consuming the second half of that jumbo cheesesteak, the safe bet is that the majority of Cable-Tec Expo attendees left Philadelphia last week with a sense of excitement and opportunity about the continued broadband dominance of cable operators well into the future.
Feel free to hum "Gonna Fly Now" as you read over the top reasons the ATX team exited the City of Brotherly Love with the feeling that the best is yet to come – as well as a few extra pounds.
Of course, the elephant in the room at Cable-Tec Expo 2022 was that hundreds of attendees were also in the room, rather than congregating on Zoom feeds, wearing (or not wearing) who knows what. The obvious, and unnecessary to include on our list, key takeaway from this year's SCTE event, the first live one in three years, is that dialog is always richer and debate always sharper when done in the company of fellow humans.
And Cable-Tec Expo 2022 was ripe with debate — over the future direction of the HFC network, in particular. That's mostly because cable operators are confronted with architecture or technology options like never before, including:
Mid split vs high split, for maximizing the capabilities of DOCSIS 3.1?
Which flavor of DOCSIS 4.0, for those adopting the next version of the DOCSIS specifications?
When to make the leap to DOCSIS 4.0, or increase investment in PON deployments?
How to combat the efforts of FTTH providers to seed the market with multigigabit symmetrical services, which this recent blog exposes as mostly marketing-oriented and symbolic.
Survey Says
These questions and others, of course, are examined and considered by ATX year-round. In fact, we're just about to commence our third 2050 Project Survey, a primary research initiative to provide industry professionals with a once-a-year snapshot of what their peers are thinking when it comes to how and how quickly they are planning to evolve their HFC networks. You can download our most recent version of the report here.
Forgive us if we also left Philadelphia feeling a little smug — about the future prospect of our cable industry partners and ATX's role in helping them achieve their broadband ambitions. We feel better than ever about the commitment we made to the cable industry community to see the evolution of their HFC networks all the way through. We know that fiber is the future. But we also understand that MSOs have made a massive investment in HFC over the past 30 years, and that it will likely take another couple of decades for them to complete their inevitable migration to an all-fiber access infrastructure.
That's why we launched the 2050 Project initiative. We wanted to give MSOs the peace of mind of knowing that ATX is in it for the long haul, every step of the way. When other suppliers come and go, abandoning platforms or focusing on ad hoc initiatives for short-term gain, ATX will be there for the endgame, focusing innovation on the future and making sure previous investments don't get stranded before every ounce of opportunity has been realized.
Wrap Up
As we head into the holiday season, please keep an eye out for the 2023 edition of our long-term HFC evolution survey. ATX greatly appreciates your feedback. But more importantly, don't be so hard on yourself about that cheesesteak. Totally worth it.